Hello,

SHURUPCHIK FAMILY TRAVEL is a family travel blog based in Germany. Do you travel with kids and love exploring the World on your own pace? So do we!
This is the place where we share our travel stories, tips and photography. We hope to inspire your wanderlust for your next trip.

---
Alexandra and Florian are the grown-ups behind SHURUPCHIK FAMILY TRAVEL.
---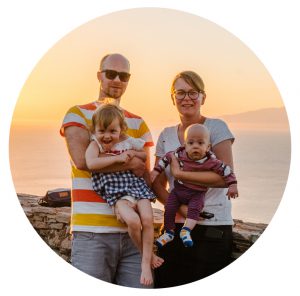 The founder and the editor behind the blog is Alexandra Kryaneva, better known as @shurupchik, travel photographer and Instagramer since 2013.
Alexandra was born in St-Petersburg, Russia and lived there for over 20 years. In 2007 she moved to Germany.
Photography and travel have always been an important part of Alexandra's life, influenced by her grandfather, a passionate traveler and photographer himself. An analog camera has been Alexandra's companion from 2000.
In 2013 Alexandra started her way into mobile and digital photography.

Since 2016 Alexandra is a self-taught professional travel photographer and blogger.
Florian is the co-founder and the helping hand of SHURUPCHIK FAMILY TRAVEL.
Working as an engineer, Florian has been interested in different cultures and languages since his school years.
In 2002, Florian spent one year in Bolivia working with children in an orphanage. During that time he also had a chance to travel around South America – from Ecuador all the way to the South of Chile. Florian documented his trips and discovered his passion for photography.
Since then, traveling and storytelling became an important part of Florian's life. He developed his skills in the area and produces high quality content for this blog and for clients.

Alexandra and Florian met in 2006. In 2016 their daughter Olivia was born. In 2018 son Maximilian joined the travel family.
---
We are happy to welcome you on our blog! IF you are curious to learn about our German life – feel free to check out our second blog 'I live here' – 'Ich wohne hier'.
Hope you will find here useful information and motivation to go on a journey yourself.

---

Partners we have worked with