A Guide to the Best Luberon Villages | Planning Your Provence Holidays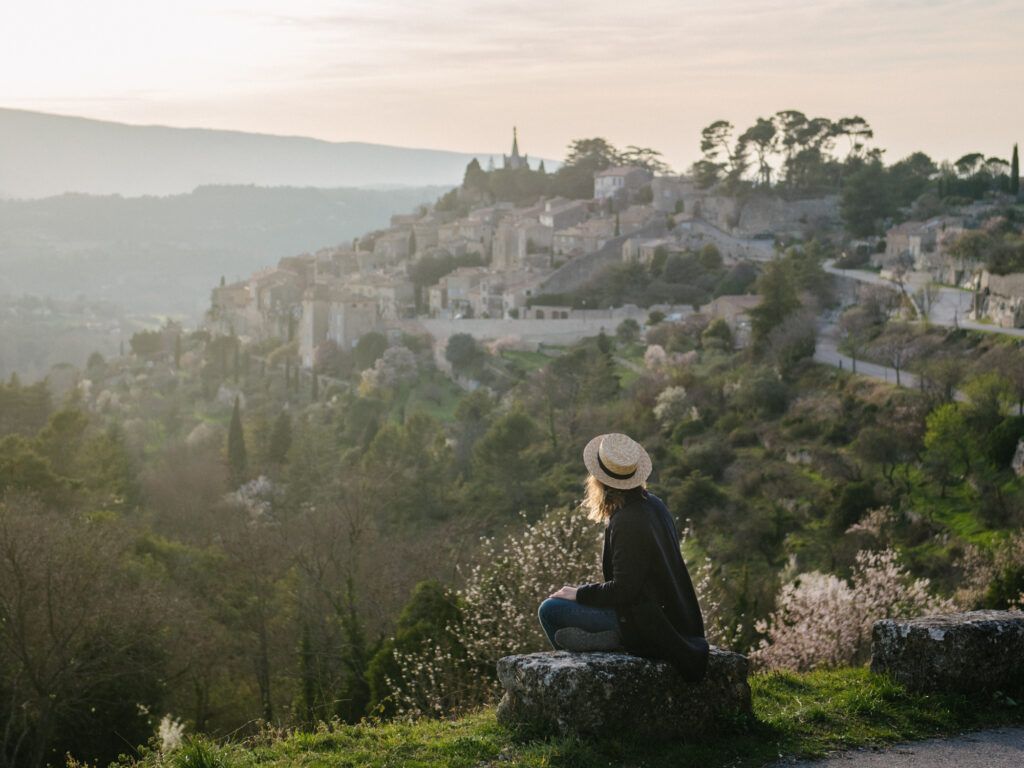 We all agree, that the Luberon Regional Nature Park couldn't be skipped when diving deep into Provencal culture and nature. With about 70 villages the Parc naturel régional du Luberon offers a pretty vast opportunities, which might not fit in the amount of days you have for the trip. But do you need to visit them all? In this guide to Luberon villages we share our personal favourites with you, to help you plan your ideal holidays in Provence.
---
"What a marvelous sunset,' she said. 'Yes,' replied her husband. 'Most impressive for such a small village."

― Peter Mayle, A Year in Provence
---
A Guide to Luberon Villages
---
Parc naturel régional du Luberon is a Provencal gem. Within almost 600 square km of the Luberon Regional Nature Park you will find charming small villages side by side with gorgeous nature and thousands of exciting specialties to explore.
There are about 70 villages within the Luberon Regional Nature Park, which might give a headache when planning your trip.
With 70 villages on offer, we hear you asking: where to start? A very legitimate question! So let us help you out.
After spending 3 months in Provence we have visited Parc naturel régional du Luberon several times and got to learn quite some villages. So here are our favourites.
---
Please note, that since we are traveling with kids, our travel speed might differ a bit from yours, but in any case with our tips you will get a good start.
---
---
Lourmarin Village
---
Lourmarin is one of those stereotypes of a perfect Provencal village.

It's narrow streets with cafes along them together with small shops selling lavender are a joy to live and breathe. Vineyards, olive groves and a city square with a bustling fountain sure adds extra charm to an already perfect composition.

Château de Lourmarin – a castle dating back to the 12th century, surely adds romantic vibes to the already perfect picture.

Lourmarin has also seen some prominent people walking it's streets and getting inspiration from this charming Luberon village. Albert Camus, the famous philosopher and author the 20th century , who won a Nobel Prize in Literature, is buried on the Lourmarin cemetery.
And remember the movie 'A Good Year' with Russel Crowe? It is based on the book with the same name, which Peter Mayle, a British author, wrote in Lourmarin. The movie itself was filmed nearby.

We have visited Lourmarin in the middle of March with very little visitors and spring vibes and blossoms – an experience hard to forget.
–>OUR FOOD TIP: During the off season times many of the restaurants and brasserie are closed. This means you will need to plan your lunch break other than walking in and having all the options, like in summer. This said, Lourmarin has some good choices. You will find nice eateries serving daily menu and lunch at the l'Ormeau square. We chose Cafè Gaby and were happy with the food.
---
---
Bonnieux Village
---
Thanks to the geographical position, Luberon mountains are quite hilly. So that most of the villages are settled atop a hill. Thus providing for incredible views over the Parc naturel régional du Luberon.
Bonnieux is no exception. Narrow alleys, Provencal houses with century old history – this village is worth spending an hour or two. You don't need to do much, just walking up and down it's streets and savouring the Provence at it'S best!
The best view of this Luberon village itself you will find it on our cover photo of this post. It is to be found if you are arriving from the Lourmarin and following the D36 to Bonnieux.
Things to Do Around the Luberon Village of Bonnieux
Visiting the largest Cedar forest of France. Just a short drive from Bonnieux, you will find yourself surrounded by large cedars. The cedar forest is a blessing in summer – are trees provide enough shade. You can wander the paths on your own, or follow one of the 4 routes marked as A, B, C and D and in colours. It all depends on your time limit. We have chosen the route A and at some point reached incredible views over the Luberon Regional Nature Park.
->OUR TIP for Visiting the Luberon Cedar Forest. The paths are quite rocky at some parts, so it's better to have proper shoes.
-> OUR Tip for Families traveling with small children:. As we have mentioned above, the paths of the Luberon Cedar Forest could become quite rocky at some point, therefore we recommend you either using a baby carrier or a stroller with thicker wheels.
Pay a visit to Pont Julien – aa great example of Roman art of building stone arch bridges. Pont Julien's history goes back to 3 BC. The bridge is worth a stop – it is about 5 km drive away from Bonnieux.
---
L'Isle-sur-la-Sorgue – the Dream Luberon Village for the Fans of Antiques
---
If you like French antiques and busy flea markets you have to visit L'Isle-sur-la-Sorgue. The village is famous for it's antique shops.
Every Sunday the whole village turns into a huge flea market, with people coming from all parts of France and outside to dig in the treasure chest.
Thursday is another flea market day, but the scale is less.
From what we heard, about 300 antique sellers showcase their products – an atmosphere hard to skip on!
Please note, that due to the current pandemic situation of Covid-19 there might be a change in the operating hours and time schedules of markets and restaurants. Please check the official government regulations in advance and stay safe!
The Luberon village of L'Isle-sur-la-Sorgue is a great stop for a lunch, people watching and roaming the streets surrounded and riverside by the river Sorgue.
---
---
Food Options in l'Isle-sur-la-Sorgue
---
Cafe de France is a very Provencal place. This is where the whole village meets to talk about the latest news, to have a Café au lait in the morning. After midday you will see locals ordering favourite Provencal aperitif – Pastis. Most likely from the Ricard brand, since it is manufactured in Marseille. The common custom is to get yourself a crispy buttery croissant from a bakery nearby and devour it with a cup of coffee. You can bring your snacks along. But you can also try the meals from Cafe de France itself. This cafe is the best place to stop and enjoy the pace of the Luberon villages at it's best.
Au Chineur is great for dining outside next to the river Sorgue. At Au Chineur the price-quality-atmosphere equation is well met.
---
Gordes – Probably the Most Popular of All the Luberon Villages
---
Gordes is not a secret gem, but a rather popular Luberon Village, which you will find in the the guidebooks. Therefore it might get very busy, especially during the summer months.
But you can't visit Parc naturel régional du Luberon without stopping by at Gordes. When arriving by car, you will see the village like a 'wedding cake' rising above the valley and will definitely recognise this popular sight from postcards and movies.
When walking the streets of Gordes it is quite easy to understand why it is so popular. It simply is beautiful!
The village is usually visited on the daily bus tours, so arrive early or late to have some peace and quiet. Gordes is also quite calm during the off season months.
---
Things To See and Do Around Gordes
---
If you have some extra time on your Luberon villages tour, we'd highly recommend you have a stop at the Notre-Dame de Senanque. You will recognise this Abbey immediately – it has made covers of many travel magazines!
It's perfect set up between two mountains and a lavender field in front of it attracts visitors and photographers from all over the Globe.
The Senanque Abbey is about 15 minutes away by car from Gordes.
You can either stop and go, or you can schedule a visit to the abbey to learn more about the regions history. There is also a shop selling local produce as well as souvenirs.
---
Roussillon – A Unique Luberon Village
---
When exploring the beautiful villages within the Luberon Regional Nature Park. Roussillon is a true Provencal gem which every traveller should place on top of it's Provence bucket list! Roussillon is probably the most unique of the Luberon villages, because of it's colours.

The area around Roussillon has been cultivated for it's ochre deposits. Back in the days, ochre has been derived from the mines to feed the textile industry supplies, which was in high demand in the 18th century. The same ochre's been used for painting the houses. The earth and the area around Roussillon has different ochre tones. The tones are especially during the sunset hours, when lit by the going down sun.
The deep brown-burgundy colours of houses in combination with colourful doors and wooden window shutters provide for a unique experience no other Luberon village can compete with.

Roussillon is a small village and you won't need more than two hours to walk up and down it's streets and have a coffee. There are several viewpoints around Roussillon, marked as Belvedere. It is worth checking them out to enjoy the views over the city and the surrounding area of Parc naturel régional du Luberon.
To have a glimpse into the history of Roussillon, be sure to visit the ochre deposits and follow the Le Sentier des Ocres – the Ochre Path.
Our tip: Try not to wear white clothes and shoes. The ochre color is quite intense and it is difficult to wash it out.
---
Check out our other posts about France to help you plan your family travels.