28 Things to See and Do in Bursa, Turkey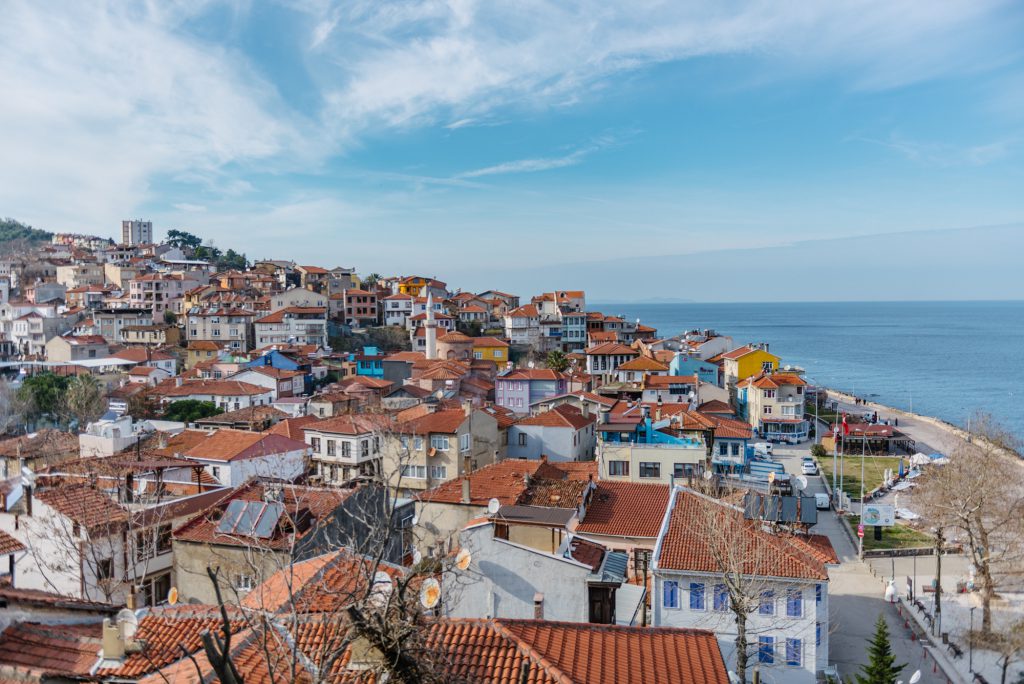 In this article you will find everything about things to do and see in Bursa, Turkey.
---
While many famous destinations worldwide suffer from over-tourism, there are still those, less traveled gems that offer what many tourists search for – authenticity.
Bursa is the fourth largest city in Turkey. It has incredible historical sights and local flair and deserves to be spoken about.
In February 2020 I was in Bursa with Bursa Kültür Turizm and I loved it!
Therefore here is the list of my favourite things to see and do in Bursa with the hope to inspire your visit.
---
Visit Bursa Town Hall
Bursa Town Hall is normally not open to public, but you might try to get in by contacting the Bursa Travel Board. The building itself is an architectural delight – wooden house with beautiful details from the 1879.
Bursa City Hall became famous during the Ataturk times. The founder of Turkey Mustafa Kemal (later Ataturk which literally means the Father of the Turks) has performed a traditional dance of the Aegean region as a symbol of love for the region.
Aegean region was the first one to resist the Greek invasion in the war for independence, leading to the foundation of the Republic of Turkey in 1923. This dance by Ataturk is depicted on a photograph taken inside the Bursa City Hall.
---
Visit Bursa Grand Mosque – the 5th holiest mosque in Islamic world
The Grand Mosque of Bursa (Ulu Cami) has many stories to tell. This mosque is 600 years old and instead of one dome it has 20 domes.
The story says, that Sultan Bayezid I was fighting a battle of Nicopolis in 1396 and promised to build 20 mosques if he won. At the end he won, but instead of building 20 separate mosques, he built the Bursa Grand Mosque with 20 domes.
Bursa Grand Mosque is very unique. simply because it has a washing fountain inside and not outside it's premises. The fountain has been created for the purpose of drowning out the voices, since the mosque has been used for political gatherings.
Up to 5000 people can pray at the same time inside the mosque and 2000 outside.
---
Visit the Green Tomb (Yeşil Türbe)
Among things to see and do in Bursa, the Green Tomb is a must visit!
The Green Tomb or Mausoleum, is the symbol of Bursa. It was built in 1421 by Murad II after death of his father, the 5th Ottoman Sultan Mehmet I. Inside are 8 tombs, one of which is from Sultan Mehmet I.
The tomb is built in the traditional architecture of the Central East, with colorful tiles decorating the walls and the ceiling. The wooden floor and the door of the Green Tomb are still in their original way.
The entrance to the mausoleum is free of charge.
---
Visit Bursa Green Mosque (Yeşil Cami)
Bursa Green Mosque should be on every visitor's list of things to do and see in Bursa. It is located next door to the Green Tomb. Built in 1420's it is a great example of the Ottoman architecture.
From the inside the mosque is laid with colourful blue and green tiles. The exterior – is white marble. Green Mosque is listed as UNESCO World Heritage site, but it is a acting mosque, so be sure to check the payer times before visiting.
---
Walk the Irgandi Bridge (Irgandi Köprüsü)
There are only 3 bridges in the world with shops on them – Igandi bridge is one of them. The other two are Ponte Vecchio in Italy and Osam Bridge in Bulgaria.
When you walk on the bridge, which is full of lovely craft shops, you don't get the feeling how high it is. Only seeing it from the side with running waters of the Nilufer River.
The original bridge was built in 1442, but after severe damages during during war times it was closed until it's renovation in 2004.
---
Visit a craft workshop on Igandi Bridge
As I mentioned already, Igandi Bridge is full of craft shops and galleries. You can visit them and see for yourself how ceramics or coffee are made. You can also have a glimpse of a traditional music performance.
---
Visit Shadow Puppet Karagöz Museum
This is not the place I would usually go to, but it was totally worth the visit. The museum is small and it won't take you longer than 30 minutes, with performance about one hour. Leather handmade puppets and the museum are listed as UNESCO World Heritage, because they are special to the Ottoman times.
The performance is mainly about Karagoz and Hacivat, two characters who tell stories and make fun of each other.
The show is on Turkish, but it still very interesting to see how the puppets on the sticks are moving, talking and making the audience laugh. And this is all made by one person!
---
Old City walls
Located in the middle of the old city, Bursa old walls serve as a great viewpoint!
From there you will have a postcard view over the mountains with Bursa Grand Mosque and busy streets at your feet.
---
Visit living silk museum Umurbey
This was one of my highlights when I visited Bursa. Umurbey living silk museum used to be a former silk production factory. Today one part of it is museum, and another part where the real production still takes place – silk rugs, clothes and elaborate silk designs. Some rugs take as long as 4 years to be produced. One silk rug normally has 100 knots on 1 square cm and they are all done by hand.
Bursa played an important role on the Silk route. It served as one of the last stops of the Silk route and has been a powerful silk producer itself.
Today about 400 families are still producing silk, preserving the tradition. Umurbey family is one of them.
In the living museum I got show the whole process of silk production, from cocoon to retrieving a thread, and it was amazing! I have never seen the process before and it was an easy way to learn something new about the history of this valuable good. Did you know that one silk cocoon produces about 1500m of thread?!
---
Things to do and see – visit Tophane park
Tophane park is lovely. With great views over Bursa and nice cafes for a tea or coffee break it also has some historical points worth visiting.
The main highlights are the tombs of Osman and Orhan – one is the founder of Bursa and another one is his son. The canons and the clocktower are special too.
The canons are used during Ramadan and point out the start and the end of the fasting times.
When I was there in February 2020, the Clock Tower was under construction. Otherwise you can go all the way up to the top.
---
Walk the alleys of the Grand Bazaar
The Grand Bazaar of Bursa occupies a large area. You will find all possible and impossible goods there. It is a great place for watching locals as well as stocking on some souvenirs or regional sweets and spices, for instance chestnut candy.
There are old and modern parts of the Bazaar, the modern one specializing on gold items.
---
Visit Koza Han – the ancient silk cocoon bazaar
Koza Han is another brilliant example of Ottoman architecture. It used to be the silk cocoon bazaar and a lot of silk trade has taken place within Koza Han's walls.
It is a great place to visit and to have a rest – the courtyard of this caravanserai-style place is filled with cafes.
---
Shopping for silk and souvenirs at the Silk House
As I have mentioned silk and bazaars, the Silk House should be mentioned too. This is a 3 storey building beautifully decorated with flowers, Aladdin lamps and which sells all possible and impossible silk products, souvenirs and traditional products.
It is worth peaking in even if you are not interested in buying anything. The entrance to the shop brings you to the magical world of 1001 night.
---
Get scrubbed at Bursa's oldest Hammam (Eski Kaplıca Hamamı (Old Hot Spring Bathhouse))
A hanmam or Turkish bath experience is a must when in Bursa (actually it applies to the whole Turkey). The Eski Kaplica Hamami, the oldest one in Bursa is a spring-fed Hammam listed as the UNESCO World heritage site. It is worth visiting for it's architecture and simply to feel the century bathhouse tradition.
It has 3 different sections: for ladies, for men and for families. Be sure to check the opening times in advance.
---
Take a photo with #Bursa sign
---
In case your friends and family ask you where you were, you can easily send them a photo of you in front of a large colorful #Bursa sign. A great memory and a fun addition to your photo collection. There are several signs around the city – the one next to the Bursa Grand Mosque and the Green Tomb are the most popular ones.
---
Have a coffee in the shade of the Inkaya Sycamore – the largest tree of Turkey
This huge plane tree is said to be the oldest in Turkey. It is about 600 years old and is't branches remind of a fat octopus, it's trunk about 3 meters in diameter.
Inkaya Sycamore stands at the foot of the Uludag mountain in the middle of a cozy courtyard with cafes underneath it and great views over Bursa. Wonderful place for a coffee brake or for lunch.
---
Go out with locals at Podyum Park
If you want to see the modern side of Bursa, the Podyum Park is a great area to visit. It is packed with bars, cafes, restaurants and also has a movie theater.
Podium Park is a great place to go in the evening for a drink or during the day for a walk. Podyum Park gives you the best overview of what's in among the youngsters of Bursa.
---
Visit Zafer Plaza – a modern shopping area
---
Zafer Plaza is a 90's addition to the Bursa skyline – it's pyramid which stand above the ground has been opened in 1996. Zafer Plaza is a modern shopping area of Bursa. If you prefer shopping malls to bazaars, Zafer Plaza is a great spot for things to do and see in Bursa.
---
Walk and eat at Kayhan street – Bursa street food area
---
Kayhan street is lovely during the lunch and dinner times and on the weekends. The street stalls give you an impression of being somewhere in South East Asia. The stalls specialty's are kebabs and delicious traditional Turkish goods. It gets busy on Fridays and in the evenings.
---
Try the best iskender (Bursa Döner kebab) at Kayhan Döner Safrasi
---
You may have heard the name Iskender at your home country. It reflects Bursa specialty – Iskender kebab – the Döner Kebab which got the name of it's creator Iskender (Alexandrer) in the middle of the 19th century.
Iskender kebab consists of pita bread cut into pieces, tomato sauce, thin sliced lamb meat, thick yogurt and melted butter on top.
You can try iskender kebab in many places in Bursa. The most original, thought, is the one at Kayhan Döner Safrasi – a former hammam turned into a döner restaurant.
---
Find a terrace with a view over Bursa to watch a sunset
Sunsets in Bursa are worth paying attention to. When I was there in February 2020 the whole sky turned pink and purple almost every day. finding a terrace with a rooftop view and sip on your drink while the sky changes colors is an experience to remember.
I love the views from Hotel Berussa terrace.
---
Eat your way at the delicious Balkan restaurant – Kayhan Koftecisi
This was probably the best food I tried in Bursa. Delicious juicy meats prepared in traditional way, vegetables and mouthwatering salads – I wouldn't lie if I say that Kayhan Koftecisi restaurant worth visiting.
Kayhan Koftecisi serves a mixture of Balkan and traditional regional food, with many dishes prepared direct at your table.
If you are curious to see what food to expect at Kayhan Koftecisi, click on my Instagram feed – I saved all the impressions from my trip to Bursa in Stories highlights.
Have you already seen our guide to Bucharest, Romania?! Click here for the information.
Things to See and Do around Bursa
---
Visit Iznik – a religious heritage hub
---
Located at the shore of a beautiful Iznik lake, the town of Iznik is a perfect day trip activity you can do from Bursa.
Changing hands, Iznik has seen Byzantines, Greeks and Romans, before becoming an Ottoman town at 1331. It's name, Nicaea, is from the Bithynia times.
These changes of power you can see in the architectural highlights:
Hagia Sophia Church built in the 6th century,
Green Mosque (Yeşil Camii) – and early example fo the Ottoman architecture, built in 1391.
the Old City Wall with iconic Byzantine Lefke Gate located next to the Roman Aqueduct. The wall itself is not in one piece any longer. Anyhow you see towers and parts of the wall around the town.
The first Ottoman University, Suleman Pasa Madrasa, dating back to the mid 14th century is also in Iznik.
I found the city very authentic. The streets were busy with people and it was great to stroll around and do people watching (my favourite activity after all).
Iznik is a popular spot for eating catfish, which is caught at Iznik Lake. I have had a great meal at Camlik Restaurant.
---
Attend a ceramic workshop in Iznik – a well preserved Ottoman traditional art
Iznik is famous for it's pottery and tiles, the secret kept from the Ottoman times. The ceramics are made out of quarz stone-paste, glazed and baked in the traditional oven. Iznik tiles and ceramics are a well-known brand in and outside of Turkey.
These days many artists still produce Iznik ceramics in the way their families have been doing it for ages. The best way to learn about the art is to attend a workshop.
I have visited a workshop at Mr. Kadir Yilmaz shop, where he and his wife demonstrated how the original Iznik pottery is created. Mr. Kadir has been working with ceramics for the past 50 years, taking over his fathers skills. All the produce you see in the shop is handmade and hand painted.
---
Explore Trylie – a lovely seaside village
Trylie is a lovely seaside village with pretty colorful houses and enormous amount of friendly dogs and cats. Located at the shore of the Marmara sealine it is only a 40 min drive from Bursa.
The best way to explore Trylia is to come for a day trip from Bursa. Start at the highest point of the village and walk down it's streets, peaking into courtyards and waving to curious locals.
In Trylie you will find remnants of an old Orthodox church of St. Ioannes (Dündar Evi) as well as Fatih Mosque dating back to the 720 AD.
I loved walking the streets of Trilye among the locals, surrounded by wooden houses and greens.
---
Travel back in time at Cumalikizik – a mountain village from the Ottoman Empire times
Listed as the Unesco World Heritage Site, Cumalikizik, a traditional Ottoman village is a charming cobble stoned village with traditional wooden houses, cafes and locals going on their daily routine. I would highly suggest to place it on your list of things to do and see in Bursa.
Cumalikizik also known as "Friday Village" was founded in 1452. It was used for worship prayer on Friday, thus the name.
I felt like nothing here has changed for centuries.
Cumalikizik gets very busy, especially during the weekend – the village was recently shown in a Turkish movie, so I would recommend coming early and enjoy breakfast at one of the traditional eateries. I have been to Haci Arifin Osmanli Sofrasi cafe and had traditional Turkish breakfast, which was great!
Oh, and the most narrow street in Turkey is also here.
---
Enjoy the views from the Uludag Mountain
Bursa has an impressive geological position – seaside on one side and mountains on the other – just an hour and a half away from each other.
Bursa lays at the feet of the Uludag mountain – another great location for things to see and do in Bursa. Visiting the mountain on a day trip is a great opportunity to have a break from the busy city and breath fresh mountain air.
Uludag mountain is about 2500m high and is the first ski resort in Turkey. It is a popular winter destination among locals and it has many hotels, bars and clubs with prominent visitors and stars.
Reaching the Uludag mountain is easy – a cable car Teleferik brings you straight from the city centre to the snowy fairytale. The cable car string is one of the longest strings in the world – reaching 9 km at one point.
I don't think I need to mention, that the views from the cable car and from the mountain are incredible.
I was very unlucky with the weather, though, the only things I have seen was a white curtain.
---
Visit Golyazi – an village on a lake island
Golyazi is a small village located on an island at Lake Uluabat. IT is considered to be one of the oldest place in Bursa region, it's foundation dating back to the 500 BC.
Golyazi is a 40 minute drive from Bursa and it's visit os best combined with visiting Trylie.
The village is very small – it took me less than 15 minutes to walk across it – but it is authentic and lovely and serves the best sunsets! It also has some cute starch nests.