A Weekend in Bucharest – The Perfect Itinerary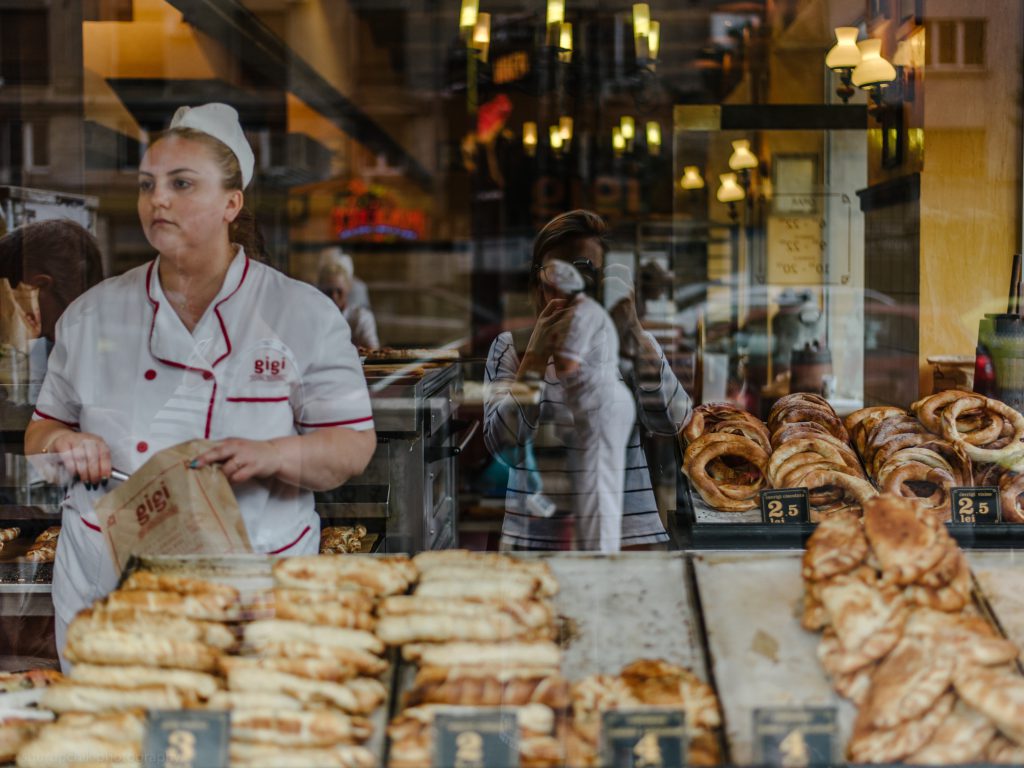 Planning your weekend trip in Bucharest? In this post we share our Bucharest itinerary with tips and our favourite places for a 48 hours getaway.
I like Eastern Europe. I always feel home there. Countries with similar history and lifestyle each unique in their own way. Spending my first 20 years in St-Petersburg surely does play a significant role in my sympathie for the East Block.
Bucharest visit came rather spontaneously, actually as a necessary stop over. But we decided to stay a little longer than just between the flights and spent a weekend in Romanian capital.
Curious to visit other Eastern Europe destinations? Click here to read our tips
Every time I told someone we are going to Bucharest I always got an answer back: 'What are you going to do there?' As if the city with almost 2 million inhabitants and centuries of history had nothing to offer! I was a bit discouraged, but as I believe that there are always things to see and do as soon as you keep your eyes open I thought that we'll manage anyway.
Long story short, we loved Bucharest and realised that a weekdn is way too little to learn this city. This said, let me share with you our Bucharest itinerary and thoughts on how to make the most of your 48 hours in the city.
---
MOVING AROUND BUCHAREST
---
FROM THE AIRPORT TO THE CITY
After doing some research we figured out the easiest and the most convinient way to get from the airport to the city is by taking Uber. Why? Simply because you don't need to worry about being ripped off by pushy taxi drivers. You don't need to worry about not speaking the language (which is actually not a problem in Bucharest, since many speak basic English) and you don't need to search for a bus stop and than ride in a bus for ages and most likely switch to another one along the way. You also don't need to rush to the ATM to cash some Romanian "leu". And wait for the most exciting part – you pay about 12 Euro for a 30 minutes ride!
The only disadvantage is when you are traveling with a kid you would either need to order an Uber with a child seat or bring your own one.
---
PUBLIC TRANSPORT
From what we saw there are plenty of trams and buses driving around the city. Bucharest also has an underground system (so typical for all East Block countries). From what we heard all those methods of transportation are not very reliable with delays and very slow service, not to mention that they are unsuitable for strollers. During our stay we haven't used any of them and have chosen walking instead.
---
EXPLORING BUCHAREST BY FOOT
If you are in Bucharest for the first time most likely you stay somewhere around the city center where most of the main attractions are located. Central Bucharest is easy to walk and I'd recommend you to stick to it. As any larger city the distances between places might be a bit longer than you wish for, but by walking your way through you get to see more of the city.
Please take care when crossing over the street!! Look twice when crossing over even when the light is green. I almost got hit by a car by crossing the street on the green light.
---
EAT & DRINK in the Romanian capital
---
My favorite part of every trip is to eat the way through the cuisine of a new place. Bucharest was no exception – we tried to combine the taste of tradition and hip modern culture and it worked out well. I would say everyone would find something for their taste.
---
TRADITIONAL ROMANIAN FOOD
---
ADDRESS: Str. Franceză, nr. 62-64
If you are looking for something unique – than you are in a right place. An old still serving it's purpose Caravai Sarai has tasty food and a nice setting. Aim for the tables outside in a shady courtyard. Inside areas are not so pretty and are usually reserved for group visitors. During the week a daily menu is served which is a good way to try traditional food sampling from smaller portions. Once you enter the courtyard you feel like the busy city is far behind you.
---
ADDRESS: Strada Stavropoleos 5
You will find this place in all guide books and it is exremely popular among tourists, but it is still worth a visit. A huge restaurant resembling a traditional brewery with high wooden ceelings, paintings and tiles on the floor. Be sure to check the inside area even if you stay outside.
The menu is huge and is a mixture of traditional and modern food. If you are a bigger group it is adviseable to make reservations.
---
MODERN/HIPSTER FOOD
---
ADDRESS: Strada D. I. Mendeleev 2
According to locals this place serves some of the best breakfasts in town. It is a lively hip place with good coffee and a range of snacks. There is enough space for those who want to grab a bite or work on their laptops. The food we had was good. The only disadvantage that it took ages to arrive.
---
ADDRESS: Strada General Eremia Grigorescu 17
A cozy place located behind a green fence serves all sorts of food and is best at lunch and dinner times. Be sure to book a table, especially if you want a sit outside – it is extremely popular and full at all times!
---
ADDRESS: Strada George Vraca 4
The name says it all – tasty burgers and sandwiches.
---
MORITZ EIS
ADDRESS: Frederic Chopin 10-12 and Str. Episcopiei nr. 6
We knew this place from our visit to Belgrade a couple of years ago when the shop owner Moritz invited us to check out his newly opened store. The ice cream range and tastes are too good to be true. So give it a chance!
---
STRADE NICOLAE GOLESCU
On this street you will find many restaurants and cafes. They were a bit too posh for our taste, but they were very busy and packed with locals.
---
ADDRESS: different locations around the city
For a quick snack and for trying out Romania baked goods this bakery is a good choice. We discovered it simply by watching locals queing infront of one store and decided to give it a try.
---
CAFES
If you like to start your day with a good cup of coffee, these places will serve you well. Most of them also serve food or snacks. It is almost impossible to find a decaf coffee in Bucharest, so let me know if you find one!
---
ADDRESS: Strada Lipscani 9
Lovely outside and inside areas located on a quiet street. It's a good choice if you are heading to visit the Palace of Parliament.
---
ADDRESS: 23-25, Strada Actor In Brezoianu
Located inside a quiet cortyard this is a coffee shop & a concept store. It also has working spaces for creatives. Basically you can spend the whole day here working on your laptop and sipping on great coffee (which comes from Berlin =)).
---
ADDRESS: Strada George Vraca 7
It's only coffee here. And friendly staff who knows everything about coffee. Oh, and did I mention coffee?! It's great for a quick caffeine refill.
These two are a bit further away from the city center, but both serve good coffee and cozy atmosphere.
---
STEAM COFFEE SHOP
ADDRESS: Strada Uruguay 22
---
FRUDISIAC
ADDRESS: Intrarea Bitolia 4
DRINKING
---
ADDRESS: Calea Victoriei 107
Upon entering this huge jungle space you feel like you are far far away from the busy city. There are 3 bars – each serving different types of drinks – smoothies, cocktails and beer/strong liquor. It is very popular among students and young people for starting a weekend or for sitting back, relax and talk about life under the garden protection.
They also have parties here but we didn't check them out – with a 2 year old you kind of become a breakfast person, you know.
---
ROMANIAN CRAFT BEER BAR
ADDRESS: Calea Victoriei 91, 93
As the name promises you will find all sorts of craft beer here with a good selection on Romanian ones. If you are into craft beer this bar should be high on your Bucharest weekend itinerary!
The only disadvantage is a busy street which makes it not so cool for sitting outside.
---
WHERE TO GO SHOPPING IN BUCHAREST
---
In case you are searching for something special off the beaten track to bring home, these locations might help you out with the task. During the times of our visit an annual Romanian Design Week took place all over the city with different pop up stores and venues. Be sure to consult the official web-page of the RDW for the detailed informration about the future events.
---
MY ROMANIAN STORE
ADDRESS:Strada Episcopiei 6
All sorts of things made locally in Romania – from hand stiched shirts to beautiful ceramics and creative household accessories.
---
CARTURESTI & FRIENDS
ADDRESS: Strada Edgar Quinet 9
A very lovely small bookstore with a friendly owner filled with great selection of English books. There are some Romanian treasures as well.
---
ADDRESS: Strada Edgar Quinet 7
Next door to the Carturesti & Friends this is a lovely gallery selling and showcasing latest collections by Romanian designers – from jewelry to furniture.
---
ADDRESS: Casa Universitarilor, Strada Dionisie Lupu 46
A lovely market showcasing local designers. The best part of it is that it is outside and is located in a nice green garden where you can relax and play with kids. There are kids activities and a cafe serving simple food.
---
BUCHAREST SIGHSEEING
---
To be honest with you the most of the sightseeing we have done was walking around the city and checking out what's going on here and there – favorite way to learn a new place.
Bucharest is beautiful! You have probably heard that it is called "the Paris of the Balkans" and it is for a reason – gorgeous architecture is still very represetntive all along the old city. It is also interesting to see all the layers different periods brough to the city face.
It is worth reading about Romanian history to understand more about people and the way of life there, but it is also worth just wandering around and keep your eyes and mind open.
Spending a weekend in Bucharest is a great way to get familiar with Romanian culture.
---
ADDRESS: Strada Izvor 2-4
The second largest administrative building in the world this creation is immense. Standing next to it you feel like a tiny helpless ant – probably one of the reasons why Romanian dictator Nicolae Ceaușescu wanted it built. It is unfinished, but huge all the same. You can visit it on a special tour if you are interested to see it from the inside. Don't forget to book your appointment and bring along your passport.
---
CISMIGIU PARK AND GARDENS
ADDRESS: Bulevardul Regina Elisabeta
A lovely park in the middle of the city where you feel that the time has stopped. Elder people chatting on old benches rowed next to the asphalt paved roads. Kids playing in the gras. Ice cream kiosks and beer stands. Boat station and a shadowy allee – it's a great spot to have a rest, a beer or a walk.
---
ORTHODOX CHURCHES
Don't miss these – spread all over the city, tucked in courtyards and between houses, churches are an important part of Bucharest and Romanian religious world. Most of them are small, but very pretty. Get up early on Sunday to watch Romanian families nicely dressed on their way to a service.
---
ADDRESS: Strada Lipscani 55
I placed this bookstore under "sightseeing" on purpose. Although it is located in a newly restorated gorgeous 19th century building and belongs to one of the most beautiful bookstore in the World, the selection of books is not so great to my taste. It is worth a visit anyway, but be prepared to be surrounded by plenty of other visitors eager to take a photo.
Last floor of the bookstore is given to a very nice and spacey open workspace and cafe. When we were there both were closed for construction.
---
USEFUL TIPS AND LINKS
---
WHAT COSTS WHAT IN BUCHAREST
In terms of costs Bucharest is no real bargain, but it is still cheaper than Western Europe. For a cup of coffee and breakfast plate you'd pay around 8 Euro. Despite of being in the European Union Romania still has it's own currency "leu", don't forget about this when paying your bills.
---
WHERE TO SLEEP IN BUCHAREST
There are plenty of choices in Bucharest. Have a look at my Pinterest board for Romania – I have marked there some lovely apartments.
If you are planning to travel in Romania, have a look at this detailed one week Transylvania itinerary
---