Kangaroos on the Beach at Cape Hillsborough | What You Need to Know Before You go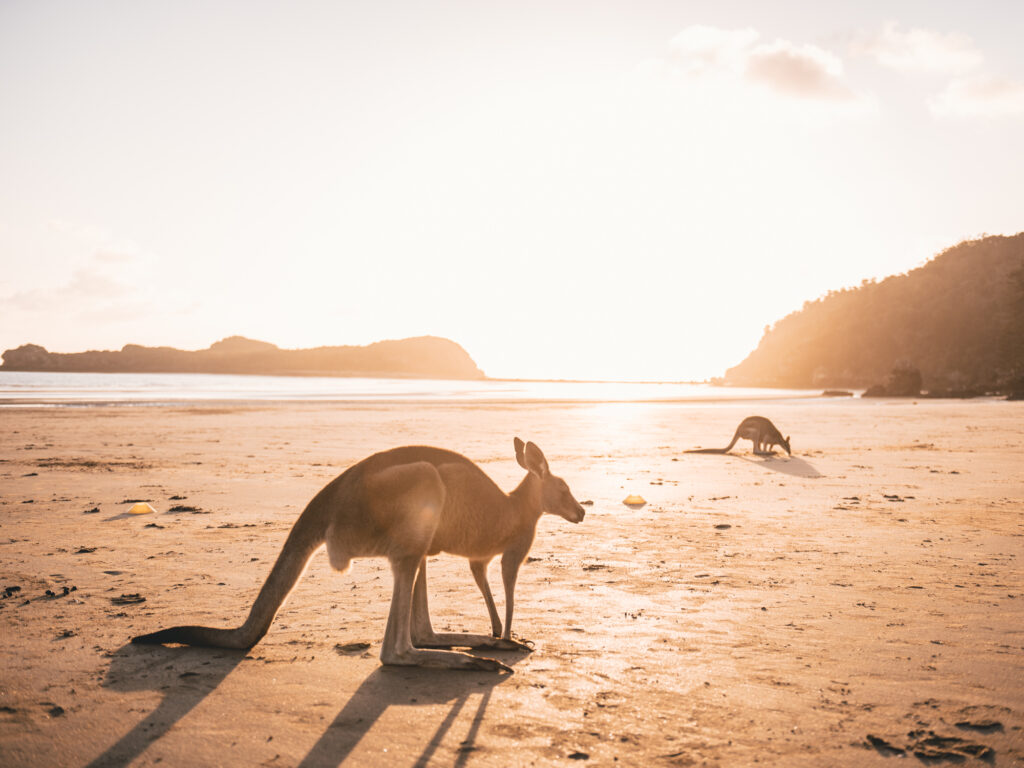 ---
At Cape Hillsborough, Queensland, you can meet the sunrise with kangaroos on the beach. But is it really that perfect and idyllic as the photos show? Read this post of ours to learn why we think you SHOULDN't give it a try.
---
Have you ever seen photos on Instagram with kangaroos and wallabies jumping on the beach in the beautiful peaceful morning light? Many who travel to Australia dream to experience this perfect scene for themselves.
While planning our road trip through Queensland, the kangaroo beach experience at Cape Hillsborough was high of my bucket list. But is it really that perfect and idyllic as the photos show?
Read this post of ours to learn we don't think you shouldn't set your expectations high. And better invest your precious time into exploring the Cape Hillsborough National Park instead.
---
Kangaroos at Cape Hillsborough is a Pure Tourist Attraction
We got a bit sceptical about the whole 'kangaroo on the beach' experience while doing the research for the trip. There were many controversial opinions, with some saying that 'it was the best experience ever' and some being very disappointing . But once we were road tripping trough Queensland, we decided to stop at Cape Hillsborough on our way from Airlie Beach to Mackay and make our own opinion.
Cape Hillsborough's beaches were indeed visited by kangaroos during the sunrise times, but it was 30-40 years ago. Before people moved in. Nowadays all the roos and wallabies you will meet reside on the premises of the Cape Hillsborough Nature Tourist Park. These kangaroos and wallabies are not wild and are not living in their original habitat. In other words Cape Hillsborough Nature Tourist Park is more like an open zoo.
Upon check-in at the Tourist Park you will get a 'do's and don't's list for your kangaroos experience. This makes sense, because the place is getting a lot of visitors and there must be certain rules involved. Well, zoo's also have rules.
---
If you Want to See Kangaroos at Cape Hillsborough You'll Have to Pay
---
To meet the sunrise with kangaroos you will have to be sure you can comply with the two things:
be up before the sunrise (at about 4 a.m.).
you have to stay overnight at Cape Hillsborough National Park to be up at about 4 a.m.
Cape Hillsborough National Park doesn't have many campgrounds. To be precise, only 2. But if you would like to be on the beach with kangaroos early you will have to be up very early. You won't be able to drive from Mackay or Airlie Beach from experience – it's just way too exhausting and the roads are quite curvy.
There are two options to stay overnight at Cape Hillsborough National Park:
to stay overnight at Cape Hillsborough Nature Touristic Park
to stay overnight at the Smalleys Beach Campground.
Since the kangaroos reside at the Cape Hillsborough Nature Tourist Park this is main option for staying overnight. Which simply means you will have to pay for your stay and thus indirectly pay for visiting the roos.
The campground and the premises of the Tourist Park are ok, but you would choose something else if not the kangaroos. Let's put it this way – it's overpriced for the provided service and the condition of the facilities. Since we were traveling with our little daughter and didn't want to have any hustle. so we stayed at the Nature Park.
The Smalleys Beach Camping Area is an alternative. It is located on the beach not visited by the kangaroos and it's about an hour walk to the kangaroos from there. It is way cheaper and nicer, though than the Cape Hillsborough Nature Tourist Park. But the parking spaces are very limited.
Be sure to follow us on Instagram to follow our current stories
---
---
Kangaroos Experience is a Staged Show
---
After people moved in the area about 30 years ago, the kangaroos stopped coming to the beach.
But it was way too good opportunity to miss upon attracting visitors, so the owners of the Cape Hillsborough Nature Tourist Park started to feed the animals.
Now they have a special person who takes care of the animals and feeds them. Which is not a crime, but adds to this whole 'zoo' situation.
The kangaroos and wallabies come to the beach for the sunrise simply because it's their scheduled breakfast time. The dedicated person spreads the food on the beach ground for the animals to stay and for the visitors to be able to take those perfect photos. Repeating the same ritual every day.
Kangaroos on the beach at Cape Hillsborough is a well tamed show, not the authentic experience you hope for.
---
There are More Visitors Than Kangaroos on the Beach
---
Even though the photos look peaceful and deluded, there were literally crowds on the beach with us. There were about 5 people for 1 kangaroo or wallaby.
And as you may know, people behaviour might be also quite inappropriate. Some were almost hugging animals for a 'great selfie'. Some were just watching some the distance.
To sum it all up. It was not the experience we were hoping for. It felt more like having an organised photo-shooting where helpless kangaroos served as models.
---
Invest Your Precious Time in Other Experiences
---
If you ask us whether we will repeat the experience, will tell you 'no'. There are so many area in Australia where you can watch kangaroos in their natural habitat. That you don't need to come over to Cape Hillsborough to be on the beach with them.
But what we would definitely do instead is explore the National Park of Cape Hillsborough. It has incredible coastline draped with eucalyptus forest and rainforest. And it is worth visiting at any time!
Have a look at our Queensland itinerary to learn what else you can explore in the area.
---
Be sure to follow us on Instagram to follow our current stories
Other Posts and Tipps for Australia: