great ocean road – our ultimate 3 days itinerary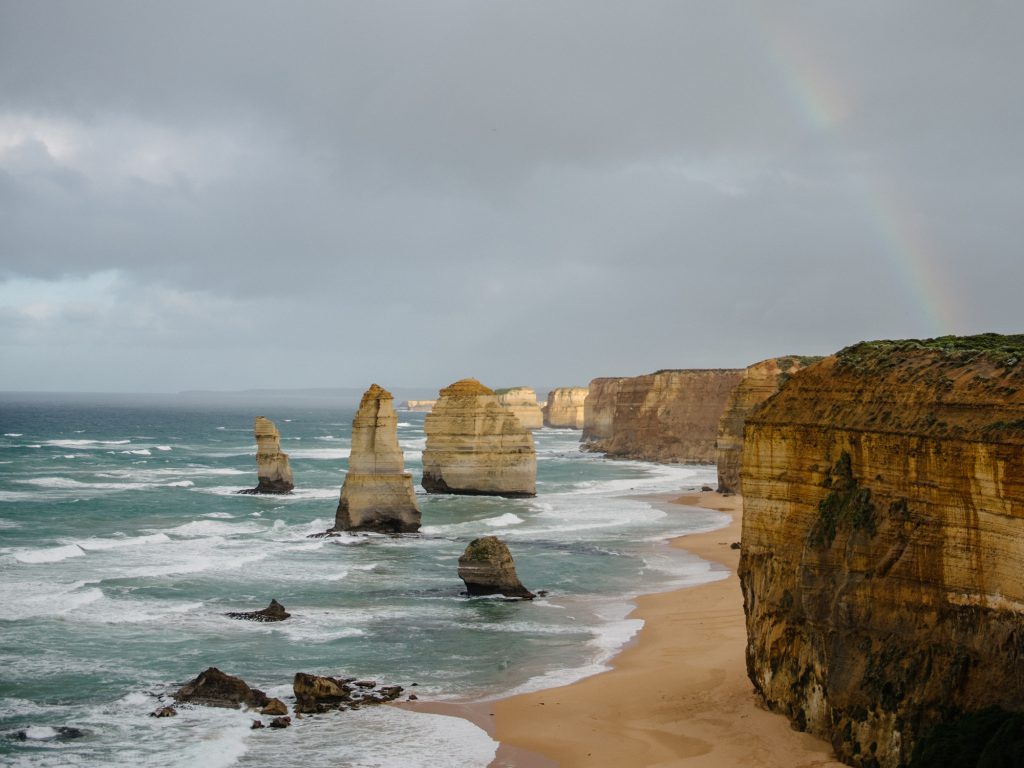 Great Ocean Road has been our last stop in Australia – we had 3 days and planned our itinerary according the given time.
Great Ocean Road is one of the most beautiful coast roads in the World. What started as a memorial construction dedicated to fallen men in WWI turned into a most desirable and popular tourist destination.
You can spend weeks in the area surfing, walking the beautiful hills, watching wildlife or feeling the cold ocean breeze at many magnificent beaches.
Most visitors come to see 12 Apostles, but is so much more to Great Ocean Road than that.
Let me tell you what you could do on Great Ocean Road in 3 days time.
---
GREAT OCEAN ROAD Day 1
---
Melbourne – Torquay – Bells Beach – Lorne – Skeenes Creek – Apollo Bay
---
Rent a car in Melbourne and head straight to Torquay. Famous for it being "the birth place" of surfing it's a lively little town with many nice cafes and hipster shops. Check Bell street and The Esplanade for most of the food/drink locations.
Don't forget to stop at the Bells Beach – mecca for all surfers it's also a nice beach to walk on and watch others ride the waves (unless you are a rider yourself – in this case you know what to do).
From there drive further towards Lorne, stopping to take some photos of the Aireys Inlet lighthouse.
Don't miss the memorial Great Ocean Road gate – the official transformation of B100, which is between Aireys Inlet and Eastern View. There is also a small exhibition dedicated to those who actually built the first road.
Arriving to Lorne be sure to spend some time in this pretty coastal town busy with lovely restaurants and tourists. All along the coast you will find a good amount of surfing schools and activities. Lorne seems to host a big part of those who dedicate themselves to sea breeze, waves and neoprene (the water is VERY cold), so don't be surprised – everyone and everything is friendly and unconventional here – walking barefoot in supermarket or cafe is a normal thing. Lorne is also a good stop over for grocery shopping – many villages along the road don't have supermarkets.
---
Where to sleep?
For the first night we stayed at Beacon Point Ocean View villas. Mainly because of the location and that it was further away from the street. This place is run by a very friendly surfer/yoga teacher couple. Upon arrival we figured out that all houses are located in a beautiful eukalyptus forest, which in Australia automatically leads you to koalas. We spotted quite some cute fluffy fellows, with one making grunting looking-for-partner noises the whole night right beneath our window.
Next door to Chris's Beacon Point Restaurant & Villa Accommodation also offers great views, good food and rooms – prices are higher though. The amount of koalas is the same though since they are freely wandering around.
The Sandridge Motel in Lorne is also a good deal.
---
Where to eat or have a coffee?
To be honest, the food options are not that geat all the way through Great Ocean Road, but there are still some nice coffee spots.
Cafe Moby (41 The Esplanade, Torquay) – coffee and food
Swing Bridge Cafe (30 Great Ocean Road, Lorne) serves great brunch and one of the best chai's in the area (and dirty chai if you like).
The Bottle of Milk (52 Mountjoy Parade, Lorne) is a nice cafe which also serves good food (burgers and Co)
Moons Licensed Espresso Bar (108 Mountjoy Parade, Lorne) serves best coffee in Lorne.
---
GREAT OCEAN ROAD Day 2
---
Apollo Bay – Cape Otway – Glenaire – Port Campbell
---
Have a walk through Apollo Bay – it's not special, but has some nice cafes. It is one of the most popular sleeping locations for those heading towards 12 Apostles, so you will be surrounded by tourists. From there head towards Cape Otway.
Cape Otway Light-station is worth the drive even if you are not planning on entering the lighthouse or light-station premises. The street goes through beautiful eucalyptus forest with koalas. The forest looks like from a fairytale and chances are high that you see kangaroos and cockatoos. The entrance to the lightstation costs 20 AUD (17 AUD if you buy it online).
You will have an access to the premises and get the chance to go up the lighthouse – Australia's oldest working one. You can also get inside if you are staying at one of the accommodations. Check this page for all the infos.
If you didn't go inside the Otway Lightstation on the way to Port Campbell is is also worth stopping at Glenaire and follow the Great Ocean Walk trail – views of the coast are great.
I would recommend to plan one whole day for 12 Apostles and the area and dedicate Day 3 to it.
On the 2d day evening arrive in Port Campbell and go to bed early to get up before sunrise and shoot some good photos of the famous rocks.
---
Where to sleep?
I'd recommend you to spend the night in Port Campbell. This is a tiny village, but it has a good choice of accomodations. It's main advantage is it's proximity to the 12 Apostels and the other sights (about 9 min drive).
---
Where to eat or have a coffee?
La Bimba (125 Great Ocean Rd, Apollo Bay) serves modern australian food in a lovely atmosphere
Hello Coffee Roasterie (16 Oak Avenue, Apollo Bay) serves self-roasted coffee.
Forage on the Foreshore (32 Cairns St, Port Campbell) great coffee, tasty food and baked goods, friendly hosts, nice wintergarden and a lovely play area for kids – this was my favorite from the Great Ocean Road. Next door is a lovely shop selling all sorts of cute souveniers.
Sow And Piglets Brewery (18 Tregea St, Port Campbell) for all craft beer lovers who want to try local goods.
Port Campbell Hotel (40 Lord St, Port Campbell) don't go for accomodations – go for the local flare. That's where all the locals meet to play pool and have a drink.
12 Apostles Inn (31 Old Post Office Rd, Princetown) this one is for all things local – from food to interior.
---
GREAT OCEAN ROAD Day 3
---
12 Apostles – Gibson Steps – Loch Ard Gorge – The Arch – London Bridge – The Grotto – Bay of Martyrs – Bay of Islands – Warrnambool
---
This day you are going to spend jumping out of the car and walking to lookouts. And they are all worth doing so. Start at 12 Apostles and be sure to get up early (ideally before sunrise) to see 12 Apostles in the early hours. Even though in many guides you will read that the best time for taking photos of the 12 Apostles is sunset for me it worked better on the sunrise (all the photos in this post are from sunrise hours). Warm, windproof clothes are a must!!
From there take a short drive to Gibson Steps. After seeing the waves hit the rocks from above it is nice to walk down and be next to them.
Be sure to spend time at all the other locations too Loch Ard Gorge – The Arch – London Bridge – The Grotto – Bay of Martyrs – Bay of Islands. They are all beautiful and unique in their own way. My favorites were Bay of Islands and The Grotto.
Be sure to plan enough time, mostlikely you will be finished by late afternoon.
The last stop on the Great Ocean Road is Warrnambool – a port city with nice and relaxed atmosphere. It is good for a lazy stroll and for comfort food after a day spent outside.
---
Where to eat or have a coffee?
Rough Diamond (203 Koroit St, Warrnambool) as it says on their page they specialize in coffee, breakfast, lunch and treats
Day Kitty (52B Kepler St, Warrnambool) a lovely cafe with good coffee and food.
---
If you have some spare time…
If you still have some time left be sure to check some waterfalls, which are plenty in the area. For instance, Carisbrook Falls (next to Apollo Bay) and Hopkin Falls (next to Warrnambool) are an easy and a short walk from carpark.
---
Useful links and tips
Always check for opening hours – some places cater only to wekend guests meaning that they are closed from Monday to Thursday.
Be sure to take warm, rain and windproof clothes with you – winds are very severe in the area, especially at the 12 Apostles.
This page will keep you up to date with all the information about Great Ocean Road. It also offers plenty of activity tips, acommodation suggestions and .
Beware of snakes – there are PLENTY of them in the are, so dress properly – high shoes and long pants.
Keep in mind that Great Ocean Road is a highly touristic zone, so drive carefully – some people tend to forget about the left-side driving.
---