Black Forest With Kids – Our Top Favourite Things to See and Do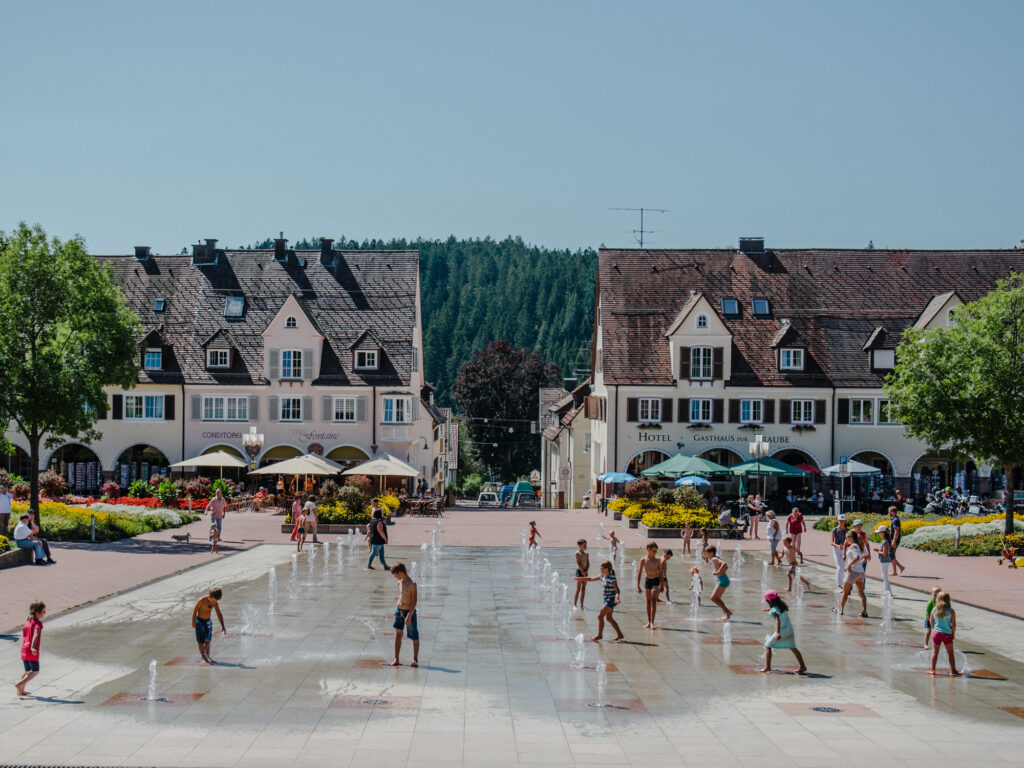 Are you traveling to Germany and planning on visiting the Black Forest? Great idea! The Black Forest is a perfect place for a family vacation. Have a look at this post, where we share our favourite things to see and do in the Black Forest with kids.
---
Is the Black Forest a Family Friendly Destination?
---
If this is your first time visiting the Black Forest you might have quite a lot of questions about your upcoming trip.
So before we start sharing our favourite spots and activities you can be doing in the Black Forest with your kids, let's just have a little introduction to some of the most fairy-tale like area of Germany.
Travel assured that the Black forest is a very child friendly, as actually the whole Germany is. You and your little one will feel comfortable exploring the area at no rush involved.
In the most restaurants and guesthouses you will find a high-chair and a baby crib. Toys and books as well as friendly personal who will always treat your child with a nice word or a smile come as a bonus.
For elderly kids there are plenty of activities – hiking paths, playgrounds, wildlife and homestay animals as well as swimming opportunities – the Black Forest has it all.
We've been exploring the Black Forest with Olivia who was 1,5 years old by that time and she seems to have enjoyed it.
---
Here are our top favourite things to do and see which we have found while traveling around the Black Forest. Some activities we have experience for ourselves, for some we'll just have to come back. As we all know, there isn't time for everything.
---
Since we have been exploring the area around Gengenbach – most of the activities and spots we are talking about in this post are located in that part of the Black Forest.
Follow us on Instagram to see our latest travel stories
---
Staying on a Farm in the Black Forest With Kids
---
The Black Forest offers a vast choice for family friendly vacation.
A farm stay is great for families and gives you and your kids an opportunity to live the local lifestyle.
The Black Forest is filled with private farms. Most of them rent out rooms or apartments at their premises for very reasonable price.
In this case you will have the opportunity to live side by side with cows, sheep, bunnies and other animals. Your kids will also have a chance to participate in the farms life. Olivia loved that!
Fresh apples from a tree next to your house or fresh eggs for breakfast are usually a nice bonus.
Needless to say, most of the farms are located in beautiful surroundings.
During our travels through th eBlack Forest we have stayed at Schwenkenhof farm and it was just great.
Run by a very friendly and hospital family Schwenkenhof rents out 2 apartments which are quite popular. It is a bit remotely located, in the village of Schiltach, so you would need a car to get there. The location is great! If you care for starry skies and deer visiting right in front of your bathroom window in the morning.
From the animal inhabitants the farm hosts cows, bunnies and goats – in summer they are based outside grassing on the juicy fields in the area.
In the evenings (except Mondays and Tuesdays) the area in front of the main house gets very busy – the family also runs a biergarten serving guests with home-made food and simple drinks. We'd recommend you trying the Strammer Max and Most (an apple wine drink).
The house is located on one of the Black Forest hiking routes, so it's also a great place to take a break and have a drink and enjoy the views over the area, in case you decide to stay somewhere else.
---
Visiting a Cuckoo Clock Museum and Learning About the Cuckoo Clock Craftsmanship
---
Growing up, a cuckoo sound was something familiar to me – my grandma had a cuckoo clock hanging above the kitchen table. Every 30 min it would make a sound, the bird would jump out of the house an than it was quite again.
Back than little did I know about the origin and the history of the cuckoo clock and that it is the trademark of the Black Forest.
If you are visiting the Black Forest with elder kids, visiting a cuckoo Mecca of Triberg is a great experience, where you will learn about all the secrets behind the clock manufacture. Who is living in that little house, how did it get in there and where does the noise come from? You'll get the answers, we promise!
Most of the cuckoo clock manufacturers hold tours, so they will lead you and your little ones through all the insides of the cuckoo clock industry and history.
The best way to start your acquaintance with the cuckoo clock world is by getting to the city of Triberg which is THE cuckoo clocks nest. Schwarzwald Museum in Triberg is to be considered and is worth visiting!
During our trip to the Black Forest we have been lucky and had a private tour of the Rombach & Haas cuckoo clock premises – one of the most prominent family owned cuckoo clock manufactures, which keep the family secrets and traditions since 1894.
*
Together with their 3 children, Ingolf and Conny Haas work hard on handcrafting the cuckoo clocks together with their team. All the produced clocks being hand-crafted, hand-painted and hand assembled!
---
Hiking in the Black Forest With Kids
---
The Black Forest is a huge playground if you wish. There are plenty of hiking routes to choose of and all them them are clearly and well marked.
Most of the hiking routes in the Black Forest are family friendly, but it's better to check in advance, depending on the age of the kid.
For instance, Flößerpfad in Kinzigtal is good for a family hike, but with kids who already have previous experience in hiking.
If you are traveling with smaller kids or babies, be sure to bring a hiking carrier, so you won't have any troubles moving around.
---
Walking the Hurricane Lothar Trail – Lotharpfad
---
Hurricane Lothar trail (Lotharpfad) is a 800 meter long walk, which will guide you through an area where the Lothar hurricane hit. It was a huge disaster for the Black Forest and for the whole Southern Germany in the December of 1999. A lot of harm has been done and a lot of forrest and it's inhabitants suffered from the heavy weather impact.
Hurricane Lothar train was set as a reminder to all the visitors of how powerful the nature can be, destroying vast area in just a couple of hours.
The path is created so that the kids will have their fun too – climbing, jumping and learning at the same time. There are pieces of broken trees, signs with quizzes and all sorts of interactive activities kids enjoy.
800 meter is also an easy distance to cope with.We have walked it without our kid (she was still sleeping), but noticed all those little kids pleasures all the parents do notice.
---
Having a Ride at the Sommerroedelbahn Gutach
---
'Sommerroedelbahn' which literally means 'Summer Roller Coaster' is a fun way to spend an afternoon with you family. The Black forest is famous for this "summer bobsleigh" activity, which is located in the town of Gutach. Narrow rails with tiny carts rushing through the beautiful surroundings will bring joy to the whole family.
---
---
Freilichtmuseum Vogtsbauernhof is an Black Forest Open Air Museum located on a farmhouse dating back to the 1600's.
Visiting the Vogtsbauernhof with your kids is the best way to explore the history and traditions of the Black Forest in the engaging and interactive way.
Be sure to plan the whole day for the visit. There is so much to experience and to learn, since there are six fully furnished and equipped farmhouses dedicated to different themes: woodworking craft, household, textile, animals, you name it!
---
Checking out Wildlife Sanctuaries and Parks
---
In the Black Forest the wild deer, wolfs and bears could be observed in their natural habitat, isn't it great?!
Well, as natural as it goes, since unfortunately Germany doesn't have any wild bears or wolfs living in the woods any more. But this is another story.
Hopefully one day it will change. As for now you can observe the 'local' wildlife in the town of Bad Rippoldsau-Schapbach. Wildgehege Breitenbrunnen, which literally means 'Game Reserve Breitenbrunnen' is a pleasant reserve with wild boar and deer on the display.
---
Walking Over the Trees at the Baumwipfelpfad – the Tree Top Path
---
Baumwipfelpfad is a wooden elevated hiking path with an observation tower on top. It is an impressive construction and it will bring joy to the whole family. Fun to climb, fun to explore and a great way to see the forest from another perspective. It brings you even closer to nature and also looks good on photos.
As an alternative opportunity to walk above the forest, take the Baumkronenweg tour in Waldkirch. It also has the Europes longest pipe slide, but pss-t-t-t.
We hope that we could give you some hints on the things to with kids in the Black Forest. We wish you great family holidays!