raja ampat – 8 things to know before you go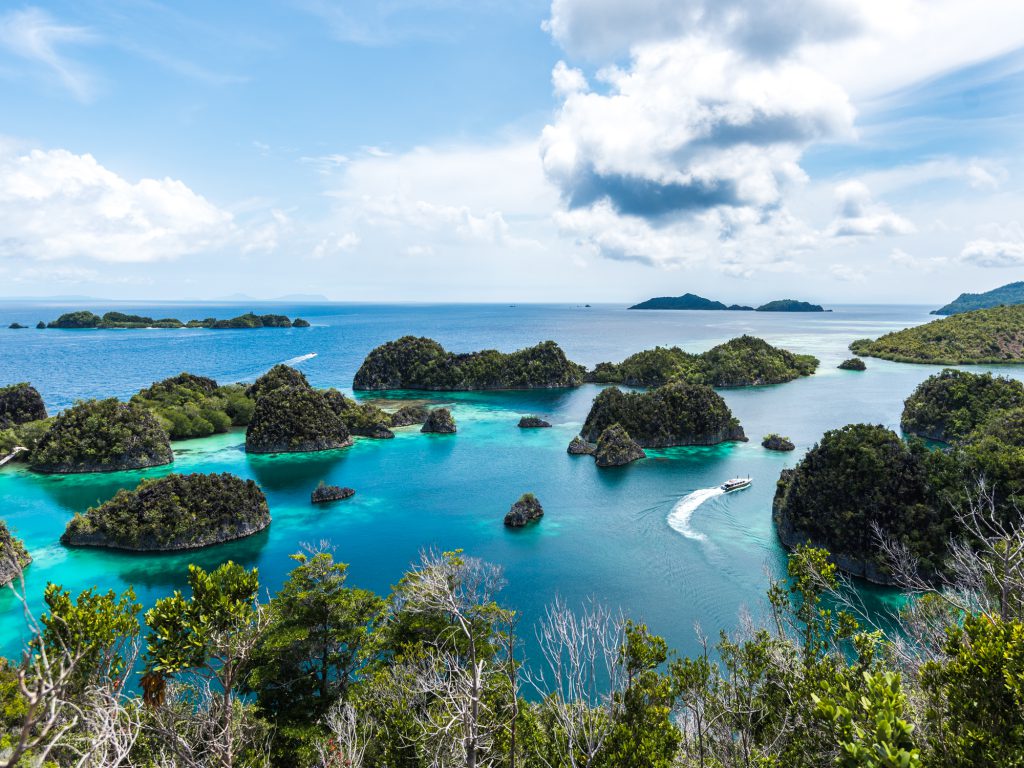 ---
Raja Ampat has been on my bucket list for years. So when the invitation from Ministry of Tourism of Indonesia arrived, my bags were packed in seconds (okay in an hour or so, since the kids were trying to help). After spending 5 days in the area, I thought I'd share with you some tips which might be helpful if you are planning your trip to Raja Ampat – 8 things to know before you go. I certainly wish to find the time to return again as soon as possible.
---
Raja Ampat is an archipelago located just next to the Indonesian part of the New Guinea Island, also known as West Papua or Western New Guinea.
Apart from being a real beauty – "the last paradise" as many say – Raja Ampat has some of the world's most diverse and unique biosphere which attracts tourists from all over the globe. The waters of Raja Ampat are considered to comprise some of the world's finest dive spots including some of the most vivid and unique species.
---
---
Things We talk About in This Post
WHEN TO GO
---
Raja Ampat is one of those destinations which welcome visitors all year round. The air is hot and humid like in most South-East Asian countries.
Similar to other tropical areas close to the equator, there is a chance to catch a shower all year round. Hence, there is no "good" and no really "bad" time for traveling to Raja Ampat.
However, local people said that for the best traveling times and for discovering the countless underwater treasures they recommend the months between June and September.
When I was there in the middle of November, there was a shower about once per day (plus one day without rain at all, and one day with a bit more rain). It was raining not at a particular time of the day (one day during the morning, one day in the afternoon or one day at night). The bad weather moved quickly and was also limited to a certain location. This means that you could have perfect weather one moment and just half an hour later pouring rain.
Also, there could be rain at one place and maybe a 15 minutes boat ride away beautiful sunshine.
Overall, I recommend to have a flexible schedule which allows you to adapt your plans accordingly.
---
HOW TO GET TO RAJA AMPAT
---
If you are planning your trip to Raja Ampat you should schedule enough time for the transfer to get there. It takes about 2 days to get from Europe to this remote little paradise.
The best and most common way is via the Indonesian capital – Jakarta. One very convenient way of getting to Jakarta from Europe is via Istanbul with Turkish Airlines – have a look at this post for more details.
In order to get to Raja Ampat you will first have to fly to West Papua Island from where you can catch a public ferry or private boat.
The city of Sorong which is located on the western tip of Papua is kind of the gateway to Raja Ampat. There is one or two daily direct overnight flights from Jakarta to Sorong. But most visitors including myself arrive with a stopover at Makassar, Sulawesi. Jakarta-Makassar-Sorong is about 5 hour journey.
From Sorong, West Papua, you can catch a regular boat service heading towards Raja Ampat. Please contact the local Tourism Office for all the details since schedules tend to change.
Depending on your preferences you can also arrange your private speed boat or pickup by boat from the hotel. Depending on your final destination the boat ride takes another 2-3 hours.
Also some of the liveaboard (see below) tours will start directly from Sorong.
In Sorong you will find for a last time some small supermarkets, pharmacies or ATMs before leaving to the islands.
---
MOVING AROUND
---
On the islands there are little roads available and hence most of the transportation is done by boat.
However, there are no scheduled boat services available. Therefore, tourists depend on arrangements or tours booked from your hotel/accommodation.
So please do not get too frustrated if plans won't turn out the way they were originally planned – island life is slow.
---
ACCOMODATIONS
---
There are basically three options you can choose out of. Since locations are rather remote, sometimes far from each other and depending on the time of the year can get also quite crowded I recommend booking your accommodation in advance.
---
a hotel or resort
It usually provides all necessary facilities and offers all kinds of services including excursions or diving trips. The rooms and service are quite basic and in terms of price value quite pricey. This kind of accommodation I recommend to anyone who wants to enjoy sightseeing/diving/snorkeling and doesn't want to care much about anything else.
---
a homestay
This new kind of accommodation is popping up all across Indonesia. This option is a great idea if you are keen on getting to know the local way of life and if you are not afraid of staying with basic comfort and in a very remote place with a few locals only.
A local family takes you in – e.g. you get your own hut and share meals and lifestyle with them. We also met a young guy from Sweden who stayed for 10 days by himself on an island (of course the local people were checking daily to see if everything was ok and to provide daily needs). A true "Robinson Crusoe" experience. If you are in search of 100% tranquility or you try to get out of everyday hustle back home this might be even a perfect idea for you.
---
a boat
– Another great option is a boat cruise which allows you to travel further into the archipelago and see a bigger variety of sights. This is especially a great option if you want to go diving. This so called liveaboard boat cruises go from one great diving spot to another, also stopping at gorgeous remote islands. However, for this option you need time, since the boats usually go a circle route which could take up to 2 weeks.
We stayed at Raja Ampat Dive Resort and Meridian Adventure Dive Resort.
If you are a slow traveler and have time, you should consider one of the homestays, maybe in combination with a stay of several days at one of the resorts.
---
COSTS
---
Even though Indonesia in general is not considered to be an expensive destination, Raja Ampat is not a low budget destination. Limited accommodation, remote places, boat transfers, the flights to Sorong and maybe some dive activities are the cost drivers.
We met several Indonesians throughout our trip in Jakarta and Bali mentioning that they have been to lots of other Indonesian places/islands, but they never seen Raja Ampat just because it is so remote and pricey.
Just for comparison:
– a night in a hotel/resort will cost you from 100 Euro and up
– a night in a homestay is about 30-50 Euro
– a single dive is about 65 Euro
– boat transfers are about 200-300 Euro per trip
– flights Jakarta-Sorong are around 200 Euro
Note that the whole Raja Ampat area is a protected national park which requires you to pay an entrance fee – costs about 40 USD! You can obtain it at the Raja Ampat Tourist Office in front of the Sorong airport.
---
SAFETY
---
Check out this article from World Nomads to have more inside information about the safety in the area.
Mosquitos and Malaria are a big issue – so be sure to bring a strong mosquito repellant and long sleeve clothes with you!!!
---
ACTIVITIES
---
The most popular activity and reason for visiting West Papua is diving. The waters are packed with unique sea life. Most of the accommodations have their own diving centers and will advise you on diving options in the area.
The best way however to experience the underwater world is to book yourself on a ship which goes around the archipelago.
If you are not so keen on going underwater, than you can do snorkeling or get to know the locals and the Papua culture. Arborek Island and Friwen Island are good for the purpose. On our short trip we visited both islands and were greeted by the locals with traditional food or traditional Papua dances and lots of friendly smiles. 
---
PIAYNEMO
---
Piaynemo is a must on most travelers bucket lists. And it should be – it's worth every bit of getting through the half of the World.
Piaynemo views and waters are breathtaking as you see on the photos here – this is the most common spot for everyone who is short on time to visit.
A similar spot is Pulau Wayak, which is bigger and therefore even more breathtaking. However, it is located about 100 km further north – making it harder to get to (and also more attractive – unfortunately I did not have the opportunity to visit there). The easiest way to get to the Pulau Wayak is with liveaboard boat tour. 
This post is written in cooperation with Turkish Airlines and Ministry of Tourism of Indonesia. All opinions and thoughts are personal and honest.