Top Things to Do in Cologne on a Weekend Trip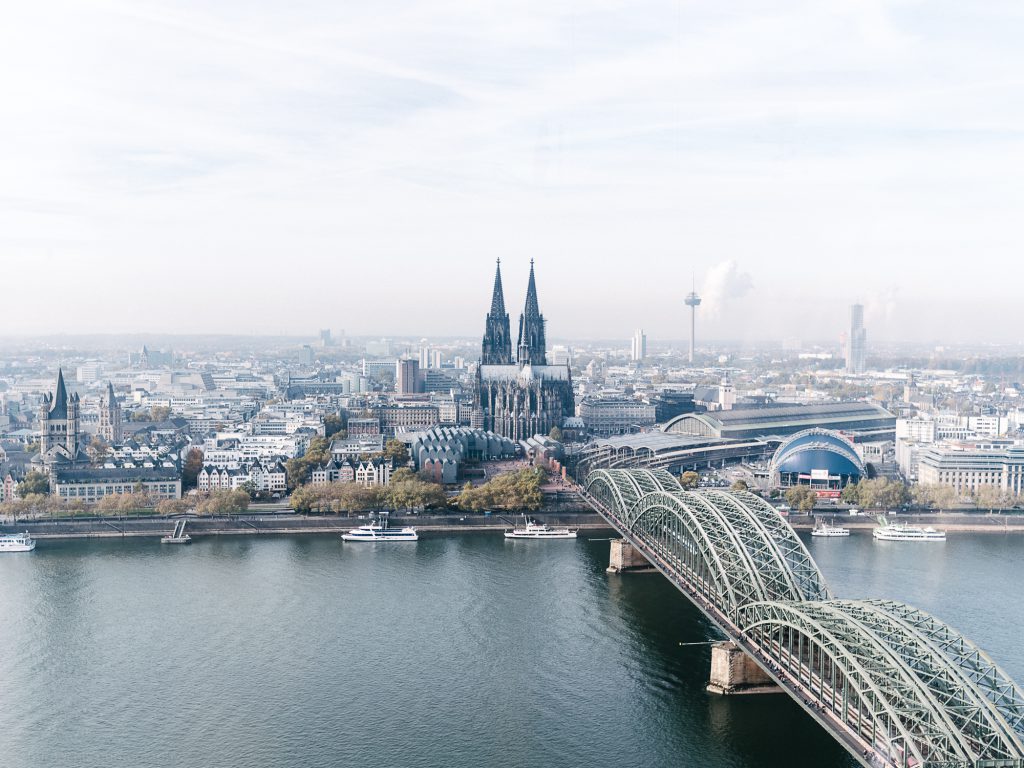 Planning your trip to Cologne? In this post Alexandra shares tips and things to do in Cologne on a weekend trip getaway.
Cologne is my dear friend. When I moved to Germany in 2007 I have spent a lot of time there. Living and studying in Bonn – Cologne neighbour – Cologne was the next biggest city to visit. I have brought all my visitors there and climbed the famous Cologne Cathedrale what felt like a hundred times.
Apart from my warm feelings Cologne is also a perfect weekend trip destination with enough points of interest to get you through, but not too many that leave you undecided on where to start.
Everyone would find something special here – let it be crazy Carnival party, marvelous Cologne Cathedrale or vibrant student life – Germany's largest university is in Cologne. 
So let me tell you about my favourites among the top things to do in Cologne in case you decided to spend a weekend in this cozy city along the Rhine River. 
---
Moving Around Cologne
---
You will most likely start you aquiantance with the city jumping off the train at the Hauptbahnhof (Main Station) . Stick to the train if you don't want to deal with a headache of finding a parking spot.
Main Station is also fortunately positioned with most of the main attractions located nearby.
Walking or cycling the city are two other good options depending on what you are up to, with cycling saving you a lot of time!
Follow us on Instagram to see our latest travel stories.
---
Best Places to Eat and Drink in Cologne
---
Cologne caters to every taste – you won't have to search long for good food. It depends what you are up to. Here are my favorite places – some have been there fo years. Some have recently opened their doors. But all serve great food and drinks. If you are undecided try the areas around Aachener Str. and Bonner Str. – they have nice eateries. The whole Belgian Quarter is packed with nice places to grab a bite as is Ehrenfeld – the district which originally was an "undesired" neighbourhood became popular among hipsters – thus food and coffee options en masse.
---
TRADITIONAL FOOD
---
ADDRESS: Am Hof 12-18
This is one of the top tourist attractions in Cologne, and probably the most traditional place you will find in this beautiful Carnival city.
This brewery serves "kölsch" – local beer Cologne is so proud of. Located right next door to the Cologne Cathedrale it attracts tourists and locals all the same. If you are eager to try local specilalties, than opt for this lively brewery.
---
ADDRESS: Friesenstraße 64-66
Another nice brewery in Cologne with a good choice of traditional food. It is less touristy than the FRÜH AM DOM and is also popular among young people. 
---
MODERN/HIPSTER FOOD
---
ADDRESS: Aachener Str. 28
These three places united under one name belong to Cologne classics. As far as I remember they have always been trendy among the top tourist attractions in Cologne. As names say you will get all sorts of service there.
My favorite is Metzgerei – a former butcher where you get delicious food.  Perfect for a quick snack and fueling on some great vibes.  
---
ADDRESS: Brüsseler Str. 12
This minimalistic Peruvian restaurant offers delicious food – a mixture of Peruvian and Japanese influence. It is a bit pricey, so it's better to save it for a special occasion. The cevice is worth every cent you spend.
---
ADDRESS: Im Klapperhof 22-24 (Top floor of the 25 Hours Hotel)
This is a must-see place in Cologne if you love eating with beautiful scenery all around you.
This is a place where good food comes with great views. Located on the top floor of the recently opened 25 Hours Hotel Neni – the name you have probably heard from Berlin and Hamburg – offers a tasty patchwork of dishes. Dishes are meant to be shared and the Israeli, German, Arab and Russian influence is in the air.
---
ADDRESS: Maastrichter Str. 45
If you're looking for the best place in Cologne to visit on a Saturday, then The Markthalle is for you. A lovely market hall with the upper floor filled with groceries and baked goods and the bottom floor with french inspired food and snacks. Best to visit on Saturday – when locals shop for groceries and snack on delicious ratatouille. 
---
ADDRESS: Bonner Str. 43
The "Fat cow" is all about burgers and they are delicious!
---
THE BEST BREAKFAST YOU WILL FIND AT ZEIT FÜR BROT AND KAFFESAURUS
---
CAFES
Coffee is king these days and Cologne knows it's way in the barista world. There are many roasteries with cafes attached which serve great coffee. There are also really cute cafes serving good breakfasts and are suitable for long chats and coffee slurping. Here is a list of my favorites  – all service great coffee and delicious sweets.
For the full list of cafes have a look at best coffee in cologne – my 10 favorite coffeehouses post.
---
ADDRESS: Friesenstraße 73
---
ADDRESS: Bismarckstraße 41
---
ADDRESS: Hohenstaufenring 19
---
Sightseeing in Cologne for Your Weekend Trip
---
I often hear people say that there is nothing to see in Cologne except for the Cathedrale. Oh, how mistaken they are. The city has so much to offer – one just need to keep ones eyes open. It is true that Cologne city center doesn't have a lot of charm left – most of it was heavily destroyed during the WWII and what has been restored is a little area around the Cathedrale – Köln Altstadt.
However the city has a lot of charm in it's people – wait till the Carnival season starts, mixture of modern architecture with preserved old one and it's vibrant art scene.  
---
Every guidebook will tell you plenty about the history of the Cologne most impressive building, so I'm going to spare your time on that. Apart from being the most visited tourist attraction in Germany it has space for everyone and is by all means worth your time. Be sure to check out the stained-glass window created by Gerhard Richter. On a sunny day it spreads the sparkle magic.
You can also climb the stairs to see the city from above.
Truly, if you're looking for the top things to do in Cologne Germany, then you can't afford to miss the KÖLNER DOM.

---
At the former fish market square you will find those pretty colourful crooked houses from your Instagram feed.
---
On the list of things to see and do during your weekend getaway in Cologne, Museum Ludwig should be on the top spot.
You will find it right beside the Cologne Cathedrale – a great art museum showcasing works from XX and XXI centuries with contemporary exhibitions on photography and modern art. 
---
If you are keen on seeing the city from above for 3,50 Euro you can take an elevator to the top floor of the Cologne second tallest building. The advantage here is that you will have the panorama including the Cologne Cathedrale.
Be sure to walk the railroad bridge Hohenzollernbrücke on your way to the panorama tower – where you will see thousands of locks attached to it – another attraction in Cologne. You will pass by Reiterstandbild Kaiser Wilhelm I – a nice spot to have your photo taken with the Cathedrale on the back.
---
Sleeping in Cologne
---
We were invited to stay at 25 Hours Hotel the Circle which opened it's doors in September 2018 and we enjoyed our stay a lot. As with all 25 Hours Hotels all details are though through.
Space topic, stylish and comfortable room, delicious breakfast and views over the Cathedrale made us want to stay longer. Oh, and they also have all sorts of free services like renting a camera, bike, car and baby care items.
---
Shopping in Cologne
---
I'm not going to call any names here, but if you aim for shopping Cologne is a good choice. Ehren Str. is where local fashion lovers shop their looks together with second hand stores of Belgian Quarter.
---
Things to Do in Cologne on a Weekend With Kids
---
Germany is a child friendly country thus Cologne is a child friendly city. Although I have to warn you – you wont find a changing facilities for babies that easily, but you will always get an advice on where to find one. It is easy to move around with a stroller except for the parts which have cobble stones – a bit shaky. Other than that kids are always welcome anywhere you go – including breweries.
If you are spending a weekend with your little one and looking for play areas and things to do in Cologne, check out these two family friendly cafes. They are a bit far off the city center but your kids would love them.
---
ADDRESS: Subbelrather Str. 179
---
ADDRESS: Mozartstraße 39
I hope that you found this post on things to do on a weekend getaway in Cologne helpful and I wish you a wonderful time in the Germany's liveliest Carnival City!