Crete With Kids – A Complete Guide for Your Perfect Family Holidays in Crete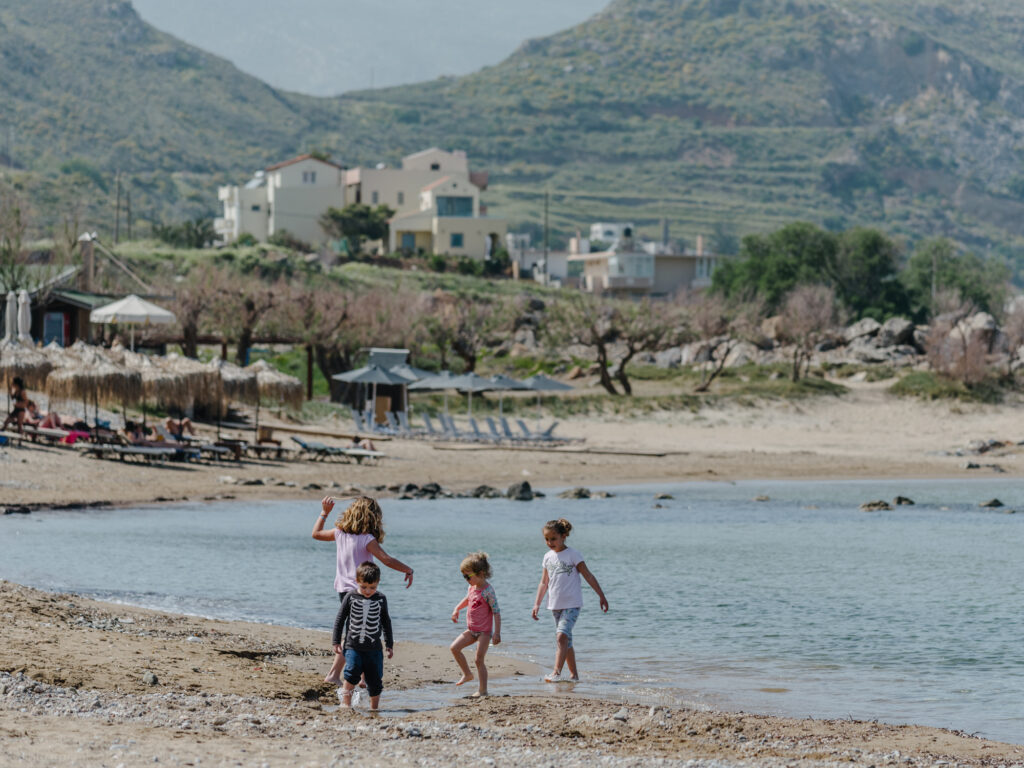 ---
Planning your family holidays to Crete? The Western Part of the island is great for families! In this post we share all the information you need for planning your perfect family time on the island. Where to stay, family activities, places to eat, best beaches on Crete – it's all in here.
---
As most of the Greek islands, Crete is a popular destination for the sun seekers. But in contrast to the other Hellas islands, Crete has space.
Crete is the largest Greek island and has the capacity to accommodate unspoilt spots with remote beaches and authentic villages together with busy hotels and fancy restaurants.
In general, Crete could be divided into four administrative parts and three main geographical areas:
Eastern Crete – with Agios Nikolaos being one of the most popular destinations for package tourists. Meanwhile the Southern part of Eastern Crete is the least developed parts of the island. It is also considered to be the most dry part of the island.
Central Crete – with Heraklion serving as the main hub and also the administrative centre of the island. Some of the Crete most popular sightseeing spots, like the palace of Knossos are located in this area.
Western Crete – is where you will find mountains and olive groves, as well as incredible beaches. It is the most green part of the island. Chania is the regions capital. The beautiful coastline town of Rethymno is also considered to be on the Western part of the island.
In this post we are going to talk about the Western Part of Crete. So keep reading if you are looking for some laid back spots and tips for helping you plan your family holidays on the Western Side of the island.
---
---
---
Holidays on Crete – Is Crete a Family/Child Friendly Destination?
---
The Cretan People
---
If you have visited Greece at least once, you will know yourself how open-hearted Greek people are. Cretans are, of course, no exception.
We have experienced only kind and friendly service and respectful treatment at any place we have been during our family stay on Crete.
Our hosts would bring us occasional treats and neighbours would wave, like we've been living there for ages.
Olivia and Maxi were greeted with big smiles and treats (no worries, only after asking parents for a permission).
And if 'Greek hospitality' is something you are familiar with, then we can assure you – Crete is wonderful kids friendly destination for your family holidays.
And if it's your first time in Greece – Crete is one the best places to get to know the countries and the islands culture!
---
What to expect on Crete in terms of Amenities for Kids
---
As friendly as Cretans are about kids, not everything is equipped for kids. Don't get scared by this statement of ours! It will not affect your family holidays on Crete with kids in the tinniest.
Sometimes there is no need in having everything well organised! And don't worry, hotels and rental apartments offer high chairs and cribs upon request – there is no problem with this.
But if you are going out, there will be a case when cafes and restaurant don't have a high chair. In this case we used our stroller.
Baby diaper changing stations are also a rare catch, but honestly, with the brilliant weather most of the time, you can simply do the change outside (talking from our own experience here).
We have spotted playgrounds almost everywhere we went and many taverns in the countryside have a garden or an outside area where kids could play.
Public beaches are equipped with sun beds and umbrellas available for rent. But you are always welcome to bring your own sun protection equipment.
Most of the roads are okay to navigate with a stroller, but don't expect it to be perfect. Pavement I missing in some areas or it is so narrow that a stroller won't fit. Holes, stones and broken roads are not uncommon.
We have been travelling with our stroller and a baby carrier, using the stroller only when in the city or smaller towns. For all the other activities – like going to the beach, we would travel either by car or use a baby carrier.
We would recommend you renting a car, if you would like to travel along the island during your family holidays on Crete. Unless you are staying within Chania, then you won't need one.
Please note, that most of the famous and best beaches of Crete are accessible only by car!
Renting a car on Crete is the same as in most of the European countries. The same procedure goes for the car seats for kids. You either bring your own ones, or rent them out by paying a daily rate.
---
What is the Best Time for Traveling to Crete?
---
If you have been following our travels already, then you know that we like to travel off season. Well, if you haven't, you can follow our daily stories on Instagram. Or you are welcome to check out our blog, packed with useful info and tips.
The West Part of Crete is famous for it's greenery, olive groves and sandy beautiful beaches as well as hiking options.This said, it could be visited all-year round.
The touristic season on Western part of Crete, however, starts in the beginning of May and lasts untill the End of September.
For our family holidays, we have visited Crete in the end of April – beginning of May and it was amazing for the following reasons:
off season benefits: when accommodations, flights and eating out experiences are about 30-40% cheaper than during the summer months.
Lefka Ori Mountains have snow tops, adding an idyllic sight to any view.
the weather was very pleasant. It was warm and sunny during the day with about +25°C, but in the evenings we needed a shirt or a light jacket. You will still need your sunscreen, but there was no heat which keeps you indoors.
the beaches and the parking lots were relatively empty
We were on Crete during the Greek Orthodox Easter time and it was an amazing cultural experience to live! Greek Orthodox Easter is the most sacred holiday for the Greeks with traditional food and celebrations, which we absolutely loved to be a part of!
The summer months between June and August can get very busy and also hot, which is not always an advantage.
The best time for the family holidays in Crete is September and early October. You get all the off season benefits, as many family resorts and holiday apartments reduce their prices. And the sea temperature is at it's best!
---
Best Place to Base Yourself in Crete?
---
'Where to stay' is usually the most important question every traveller has. We also have done tons of research before choosing an area where to stay in Crete.
As we prefer traveling independently, we usually stay off the large family resorts and prefer staying at holiday apartments. Want to learn more about our family? Check out this post.
A combination of local life with nearby beach options as well as sightseeing points and good food are an ideal combination for our family vacation.
During the holidays on Western Crete, we found this combo in Kissamos – a laid back city which has everything an independent traveler of a family need.
---
Why We Believe Kissamos is a Great Base for The Family Holidays in Crete
---
The city of Kissamos is located about 40 km from Chania and it an easy drive of about an hour.
Kissamos is not an obvious beauty from the outside and is know among tourists and package travellers as the gateway to one the most famous beaches of Crete – Balos beach.
Indeed, there is a regular boat service from the Kissamos harbour which bring visitors for day trip to Balos. Have a look at this post of ours to learn more about Balos beach and how to get there.
But if you take time and stay longer, you will discover Kissamos as a lovely and relaxed beach town with a healthy mixture of local and touristic life.
Here are the reasons why we found Kissamos as a great base for our family holidays in Crete:
here was no daily rush and the size of the city was easy to navigate with kids. As beautiful as Chania is, we wouldn't recommend to stay there with smaller kids – the city gets very busy with tourists!
Kissamos has all the amenities a city has: a seaside promenade with food and coffee options, a couple of bakeries, two supermarkets, a decent amount of hotel and apartments for rent, a town church, several ATM's and a Main Street filled with little shops and cafes.
Kissamos is also a great base for reaching the beaches of Western Crete as well as for daily excursions and explorations of the area: Elafonisi Lagoon and Balos Beach are less than an hour drive away. Phalasarna beach is only a 25 minute drive away.
Some of the best taverns in Crete are located around Kissamos.
---
Things to Do in Western Crete With Kids?
---
Western Crete is green, sunny and gorgeous and we believe it is this part of the island you should consider when searching for a perfect family holidays destination.
---
Learn About Greek Olive Oils from the Best Olive Oil Producers in Crete
---
Sometimes we joke, that we would travel for food and olive oil. But in all the honesty, we just love olive oil a lot! If we find ourselves in a region which grows olive oils, we always bring back home a bottle or two of extra virgin organic olive oil.
You probably have already heard, that Crete is one of the main producers of olive oil in Greece. And Western part of Crete is responsible for the majority of the produced amount, because of it's climate and history.
The history of the olive oil production in Crete goes back to the ancient times.
---
And if your olive oil consumption is a high as ours, we recommend you get your oil from the first hand source. By visiting an olive oil producer directly!
---
The area of Kissamos have several organic olive oil producers. Some you might know already from the shelves of a store in your own hometown.
We have visited Biolea – an organic produces of the top quality stone milled cold pressed oil. Biolea is a company which has been run by one family for generations. It is located in a gorgeous settings – our kids loved walking between the olive groves.
At the Astrikas Estate, where Biolea is based, olive groves are farmed organically without the use of any chemical supplements and have been certified organic for the past 20 years.
There are guided tours and olive oil tastings, which are an educational and delicious addition to any family holidays in Crete.
If you need some extra inspiration on things to do in Crete with kids – check out this post by 'Travels with Eden'.
---
Enjoy The Gorgeous Beaches of Western Crete
---
The beaches of the Western Crete is probably the reason why you are planning your family vacation to Crete in the first place. Are we right?!
And yes, Crete has amazing stripes of sand, with blue lagoons, turquose waters, caves to explore and sunsets to enjoy!
The most famous and therefore popular beaches of Crete are located on the Western side: Balos beach, Falasarna beach and Elafonisi beach are among the top ones
Check out our post "Crete with kids – 7 best beaches of chania region you must visit" to learn more details about the beach options.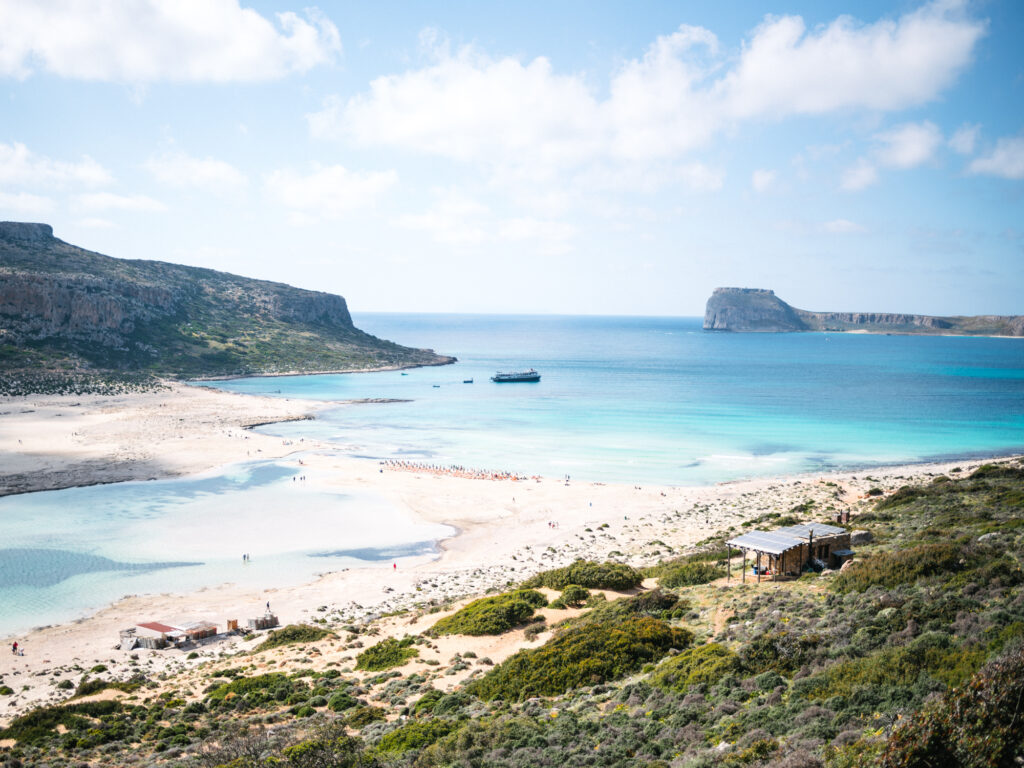 ---
Roam The Picturesque Small Villages of Western Crete
---
The Cretan villages are charming and filled with local vibes. Flowers in pots, white houses and crooked wooden chair in front of them with chatty neighbours are not to miss!
Most of the villages are tiny and easy to navigate, usually having a tavern or two for a tasty break. We wouldn't recommend taking a stroller on your endeavours though, because some have stony roads and are also steep to walk.
Our favorite villages of Western Crete to discover were: Milia, Kaliviani, Fres and Paleochora
---
Dive into Cultural History of Crete by Visiting Archeological Sights and Learning about Greek Mythology
---
The history of Crete goes back to the Neolithic Times, which took place between 7000-3000 BC. But most of the Cretan stories and mythology is, however, derived from the times of King Mino. The so called Minoan civilisation took place from 3000-1450 BC.
Have a look at this brief timeline of Crete to know more about it's history.
Most of the large archeological sights from those times are located in the middle part of Crete. One of the most important and valuable remnant of Minoan age is the palace of the former city of Knossos. It is located in the middle part of Crete.
However, from the Western part of Crete it is about 2,5 hours drive to Knossos.
Anyhow, there are some sights, we found worth visiting on the Western Part of Crete: Polyrrhenia and the ancient harbour of Falassarna.
Kids would be thrilled to learn about the Greek Gods and Goddess's, so be sure to check the 'Myths and Legends of the Ancient Greece'.
---
Visit Ancient Monasteries and Learn About the Religious History of Crete
---
Most of the Cretan are baptised Ito the Greek Orthodox religion, bringing it's own traditional and religious rituals.
Religion plays a very important role for the majority of Cretan. There are more than 800 churches on the island, some of them belonging to the monasteries.
Many monasteries have been on the islands for centuries and their walls have stories to tell.
Chania region hosts some of the most prominent and famous one. Many of which are in functioning.
Visiting a monastery during your family vacation in Crete will give you a chance to learn about the religious side of the islands. Many monasteries sell their own produce, olive oil and honey being the most popular ones.
Many monasteries are located in beautiful and peaceful surroundings, so the kids could play and walk undisturbed.
Our favourite monasteries to visit were:
Gonia Odigitria Monastery – a men monastery in Venetian Style overlooking the sea.
Agia Triada Tzagaroli Monasteri – this monastery is said to be one of the most beautiful in Crete. It is located next to Chania airport and we visited it before our departure. You can also get local produce and olive oil here.
The Monastery of Panagia Chrisoskalitissa – a gorgeous monastery, which is best visited on your way to the Elafonisi Beach
---
---
Enjoy Peace and Quiet in Botanical Park and Gardens of Crete
---
For a stroll in a peaceful surrounding among the beautiful trees and flowers form all over the World, be sure to visit the Botanical Park & Gardens Of Crete.
The garden has an herbs and fruit tree garden, as well as a tropical park.
Kids would love the part with farm animals. And there is also a section, where your family could get to know the local Cretan fauna – like 'Kri-Kri' – a so-called Cretan goat, only found on Crete.
---
Packing Essentials for Your Family Holidays in Crete
---
Crete is a sunny island! That said, you will be exposed to sun almost anywhere you go. And even though most of the family resorts and beaches have sun beds and umbrellas, we recommend you to take the sun issue seriously!
This said, sun screen (preferably SPF50), sunglasses, and sun hat are must for you and your kids!
If you have an option, we'd recommend you get the UV-protective clothes for the kids.
Shoes for entering the water and might be necessary at some beaches, due to the pebbles and sea urchins. The sand gets very hot too, so the shoes will protect the feet of your little ones.
We also recommend you to pack a light blanket (you can also buy one in Crete) – in this case you won't need to spend money on the beach equipment.
A medicine bag with all the major treatments should be on you during your family trip to Greece.
A light jacket or something warm for the evening – this applies especially if you are traveling during the shoulder season.
stable walking shoes – since some roads are not that great.
---
Important Information Before Traveling to Crete
---
If you are traveling to Crete after 01 July 2020, please be sure to follow the official Protocol for Arrivals in Greece during the new coronavirus SARS-CoV-2 pandemic.
All travellers are required to fill in The Passenger Locator Form no later than 48 hours before boarding!
Here is a link to the official procedure.
---