48 hours in stockholm with kids – our itinerary for a relaxed family weekend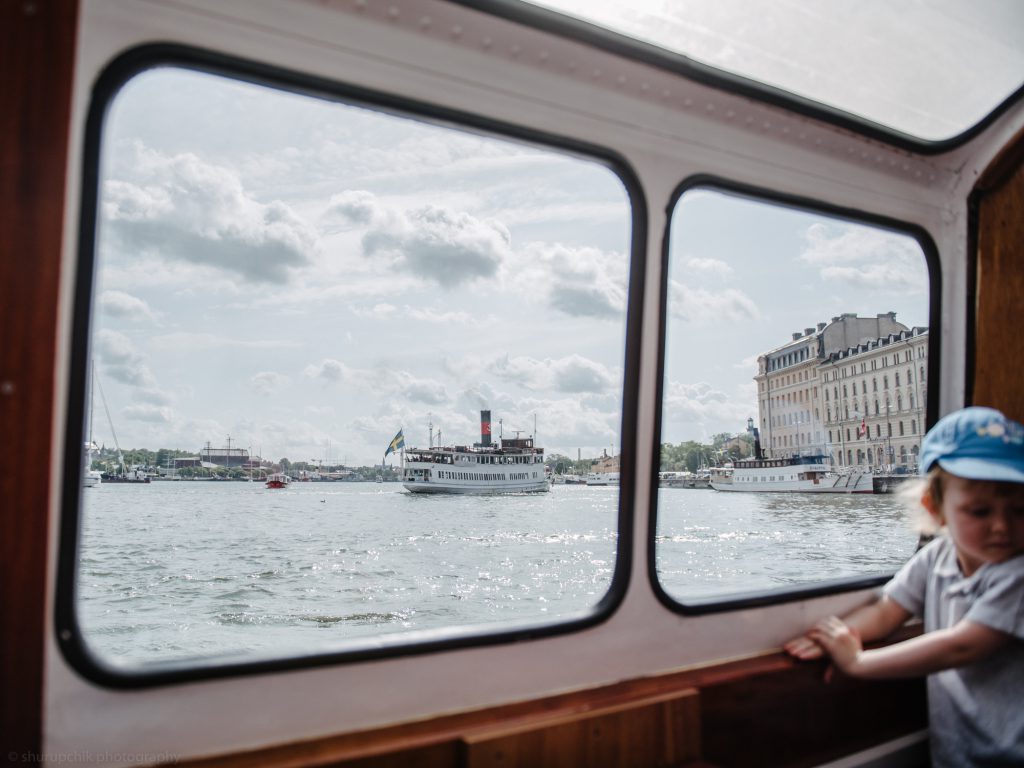 ---
We just came back from Stockholm and are itching to share with you everything we managed to see, do, try and stumble upon within our 48 hours stay in this vibrant Swedish capital.
If there was one sentence to describe Stockholm we'd choose "Perfect for families". The city is so well thought through and open to children that your heart opens up too. You see parents, grandparents and kiddies everywhere you go. Or maybe we just pay more attention to it now, who knows?!
Fact is that everywhere we went we saw families happily walking the streets, having lunch, playing outside and engaging in all sorts of family activities.
All the little tokens of attention from pavement slides to playgrounds with covered playing areas – it all makes it count.
The feeling we had was that kids are welcome everywhere.
So, if you are still in doubt on where to go with your kid – Scandinavia is the best start possible.
Oh, and thumbs up to Swedish dads who take a very active role in bringing up kids! I (Alexandra) don't think I have seen dad + kid combo so often as on the streets of Stockholm.
---
GETTING FROM THE AIRPORT
---
Arlanda Airport is the main gateway to Stockholm and is located about 40 km off the city premises. There are two ways to travel between the city center and the airport – Flygbuss and Arlanda Express.
---
---
A bus service which goes every 10 minutes from the airport terminal to Stockholm city center with a couple of stops along the way.
It takes 45-50 minutes for a single trip. The single ride ticket price is 99 SEK (about 10 Euro) for an on-line ticket and 119 SEK (about 12 Euro) when your buy your ticket from a vending machine.
Children under the age of 8 years travel for free.
---
---
A speed train which travels from Terminal 5 of Arland Airport to Stockholm Central Station every 15 minutes.
The ride takes 18 minutes.
The single ride ticket price is 350 SEK (35 Euro) for 2 persons. Accompanied children from 0-17 years travel for free.
It's up to you to make a desicion which option to take. We have chosen the speed train for two simple reasons – speed and space. After being cramped into our plane seats we wanted to reach the city fast. And the kids had the opportunity to spread their legs.
So our thoughts on this: traveling alone – choose bus. Traveling with small kids – choose train.
---
MOVING AROUND
---
Stockholm is easy to navigate. Public transport is widely available – with metro, buses, boats, bikes and scooters on offer you will definetly find something to your taste. Walking distances are bearable – even though the city hosts almost one million inhabitants the inner part of the city with it's main attractions is within a walkable distance.
If you are traveling with a stroller (as we did) – Stokholm is so well equiped that sometimes you don't even notice that you have crossed a street, meaning that all the pavements have special slides, all stairs have lift access and all metro stations have lifts.
We have been moving around on foot with occasional help of hop on hop off boats and buses and Olivia and Maxi sharing a stroller.
STOCKHOM PASS INCLUDES ENTRIES TO ALMOST 60 MUSEUMS AND UNLIMITED RIDES ON HOP ON AND HOP OFF BUSES. IT ALSO SAVES YOU A LOT OF TIME WAITING IN LINE.
---
SIGHTSEEING
---
We have mentioned it already, but we are not tired of saying it again..and again..Stockholm is a paradise for kids!
Especially for the elder ones. There are great indoor and outdoor museums to visit, playgrounds to test and ice cream places to splurge at. Especially if you stay in residential areas away from the crowds.
We know it's hard to combine the self urge to do some sightseeing with the kids desire to spend the whole day at a playground.
We try to combine and we can proudly say that we have accomplished this mission in Stockholm.
We spent our first day exploring the residential Northern part of the city, with it's middle point – Vasa Park. And the second day on a boat ride and wandering through the Museum island and Gamla Stan.
---
DAY ONE – VASASTAN
---
Arriving in Stockholm on a Friday morning we had the whole day to spend before boarding our cruise liner to Aland archipelago. So we decided to take it slow and leave the sightseeing part for when we return back from our cruise.
Since Olivia and Max are still in their young years and the weather was great we concetrated on the Northern part of Stockholm – Vasastan which is residential.

If you arrive with Flygbus get off at the Vasa park. If you arrive with a Arland Express a walk from Central Sation to Vasa park will take about 30 minutes. We walked and started our day with coffee and a snack at Gast Cafe, which has plenty of space for bringing along two kids and a stroller and also provides baby chairs.

Afterwards we had a walk passing by the architectural highlight of the Stockholm Public Library towards EatNam – a lovely vietnamese corner bistro serving tasty meals and is also great for watching locals (for the purpose take a seat on the terrace).
When the bellies were full we spent most of the afternoon at a marvelous playground right in the middle of the Vasa park – riding bikes, with Olivia testing swings and Maxi having an afternoon nap.
If you like Astrid Lindgren and her famous Pipi Longstockings, than you might want to pass by her house – Astrid Lindgrens Hem – at Dalagatan 46.
After having tried almost everything playground had to offer, we decided to have some ice-cream and were happy to discover that Snö serves delicious gelato right at the edge of the Vasa park.
Later on we went to Kaffeverket for another round of coffee ended our day at Vasastan with a walk around neighbourhood.
Later in the evening we walked back to the Central Station, picked up our luggage and took a metro train to the Tallink – Silja terminal.
---
DAY TWO – CITY CENTER
---

On our second day in Stockholm we decided to do some sightseeing and concenrate on the city center.
Since we had our Stockholm Pass we decided to stick to hop on hop off services and went on a boat ride. We hoped on at Nybrohamnen and stayed on board almost the whole circle eventually getting off at Gamla Stan.
As gorgeous as it is, Gamla Stan is one of the rare places in Stockholm which is not meant to be visited with small kids. Cobble stone streets and tourist crowds make it a very busy area. After a short stroll and Olivia enjoying changing of the guard at the Royal Palace (it included horses) we decided to hop on the boat again and ride all the way to the Museum island where we planned to spend the rest of the day wandering between attractions.

First we visited Vasa museum – a maritime museum which is also a home to the original ship from the XXVII century called "Vasa" which drowned upon his first cruise right off the shore of Stockholm harbor. The ship was lifted up from the bottom of the sea and restored. It is a very impressive sight with history and games combined.
Later on we went to Skansen – an open air museum showcasing traditional Swedish lifestyle, including pretty wooden red houses and an area with regional animals. Guess which part Olivia loved the most?!
There is another great kids museum located on the Museum island – Junibacken – it's about Astrid Lingren Pipi Longstocking. But Olivia doesn't know her yet and we decided to leave it for the next time we visit Stockholm.
---
EAT AND DRINK
---
Stockholm food scene is diverse.
There are top scale restaurants, cozy bistrot's and affordable snack bars – you won't stay hungry, we promise.
Stockholm is a city of food markets – an easy and fast way to grab a bite. There are many food halls located all over the city.
And don't forget about Fika – a time during the day when Swedes have coffee with a piece of pastry (usually a cinnamon bun). Fika is a big thing in Swedish lifestyle and it should be as stress free as possible – in a cozy atmosphere with friends, family or colleagues.
Swedes drink a lot of coffee – mostly filter coffee, so there is no lack in it. There are many bakeries and pastry shops selling delicious breads and a famous Princess cake – an explosion of bisquit, vanilla cream, raspberry jam all hidden under a thin layer of green marzipan.
When traveling during the week, keep an eye on "Daily Menu" – a business lunch alternative when bistrot's serve a dish or two at a good price
Is it common to tip? Since most of the transactions are made cash free and almost everywhere you order at the cashier and pay right away tipping is not common. 
Everywhere we went we spotted baby chairs. We also noticed that it is not common to take stroller inside – they are usually left infront of cafes.
Here is a list of places which we found as kids friendly and which serve great food and drinks:
---
Address: Rådmansgatan 57
This is a wonderful cafe. With plenty of space, delicious coffee, baked good and sandwiches it also serves some meals. There are places on the back where you can working on your laptop undisturbed (dreaming loud) and a long row of benches in front of the cafe in case the weather is good.
---
Addresses:
Vasastan: Upplandsgatan 45
Södermalm: Ringvägen 129
Kvarnholmen: Tre Kronors Väg 45
The name pretty much says it all. There are 3 Crispy Pizza Bistrot's around Stockholm and they all serve delicious pizza!
---
Address: Birger Jarlsgatan 36
A lovely corner bistrot with seating area inside and outside serving good Vietnamese menu. Very popular during lunch hours it is also a great place for people watching.
---
Address: Odengatan 92
A delicious gelato place which also serves lunch menu. We have had gelato only, but from what we have seen the food looked incredible!
---
Address: Sankt Eriksgatan 88
A lovely coffee place next to a lively street serving coffee, sandwiches, baked goods and offering enough space for kids.
---
Address: Kungsgatan 25
A street food market where you will find anything from pizza to sushi to burrito to Thai food.
---
Address: Beckholmsvägen 26
This bistrot is amazing! It serves simple yet delicious food at fair price. If you want to try modern Swedish cuisine this is your choice. Its visit is best combined with a trip to the Museum Island.
---
Address: Skånegatan 47
Pizza, beer, pasta and sandwiches.
---
---
SHOPPING
---
If you like Scandivavian style and brands, than shopping in Stockhom is what you'd enjoy! With plenty of options to choose from – upscale boutiques to cozy second hand shops – you you can easily spend the whole weekend by walking from one shop to another.
But if you read our post until this point than we have a confession to make. We are not into shopping. Florian and myself have some favorite brands we stick to and purchase things only when needed or when it is a love from the first sight (rare case).
During our travels we rarely go into shopping malls (exept for using a bathroom) or spend time shopping – but checking small businesses or local craft stores is always a pleasure.
Stockholm also hosts some brillian market. Farmers markets are held on every Saturday and sunday. For flea markets check their schedule.
Here are some shops and markets we found appealing:
---
IRIS HANTVERK
Address: Kungsgatan 55
A beautiful shop which specialises on brush manufacturing and also sells a curated collection of homeware items. Great for a unique present or a self treat.
---
Adress: many stores across the city
We dearly love this brand of Swedish kids wear. When Olivia was born a family friend gave us a present which also included 2 packs of socks from Polarn y Pyret. These socks turned out to be the perfect match – they just stay on your kids foot and don't slide!! After almost 3.5 years these socks passed t Max without any holes or bleach.
---
Address: Norrtullsgatan 31
A small second hand shop in Vasastan.
---
Address: Norrtullsgatan 31
It is VERY hard to leave this cute shop filled with cute kids products without a purchase. It is great for inspiration and for buying presents.
---
This flea market is held outdors and takes place in the city center. Hunting for treasure with like minded tourists and locals is a lot of fun!
---
Katarina Bangata Street Farmers Market
This is a regular farmers market in the district of Södermalm which takes place every Saturday and Sunday.
---
---
EXTRA TIPS
---
To see Stockholm from another perspective go underground!! It's not a joke. Stockholm metro has some of the World's most prettiest stations and it is worth checking them out. Metro ticket costs 45 SEK (4.50 Euro), so it is wise to plan you trip rather than purchasing a ticket just to see the stations. Check out this list to help you plan you metro trip.
Good news! If you are traveling with a stroller – than you don't have to pay for your bus ticket. It's a free ride!
Keep in mind that almost everywhere in Stockholm as well as whole Sweeden you pay with your card, not cash. We cashed some money at the airport and brough it back – there was no possibility to pay with cash.