ibiza with kids – our 6 favorite family friendly beaches in santa eularia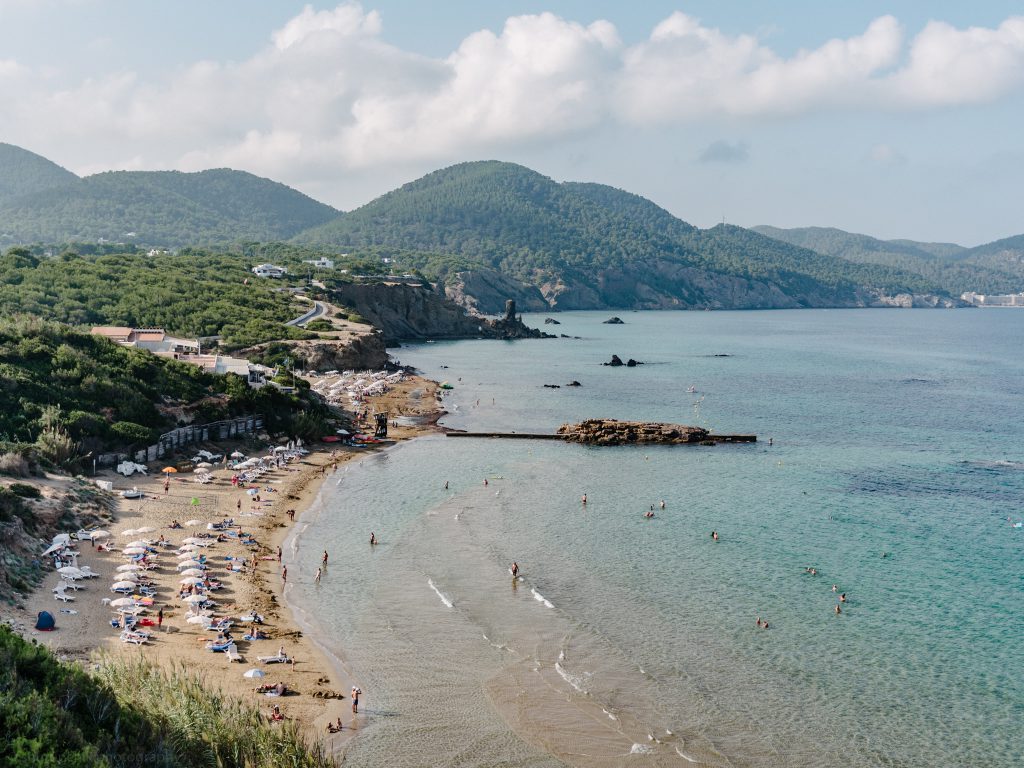 ---
Ibiza is often seen as a party island, which is true at some point. The island indeed has great clubbing opportunities to those who seek them.
BUT (there is always a but!) after spending 10 days on the island upon the invitation of Santa Eularia Tourism Board we are happy to report that Ibiza is also great for traveling families.
Yes you read it correct – if you are looking for a destination with beautiful beaches and facilities catering for kids of all ages, Santa Eularia is the region you want to pay your close attention to.
While we are working on our big guide about things to do and see in Santa Eularia, in this post we would like to share with you our 6 favorite family friendly beaches.
---
PLATJA DES FIGUERAL

---
Platja des Figueral (in Catalan "Platja" means beach) is located in the village of Es Figueral. The beach is located between two hotel complexes – Invisa Hotel Club Cala Blanca and Invisa Hotel Club Cala Verde, but it is a public beach and everyone has acess to it.
The beach is wide and has space for everyone. The small creek divides the beach into two parts. In the middle of the right part you will find a Kayak and a SUP renting station.
Natural Pier divides the right part of Platja des Figueral into two parts providing the vision of two beaches.
The first part of the beach (closer to the Cala Blanca Hotel) has darker sand and deeper waters. It is usually a busies one too.
The second part of the beach (closer to the Cala Verde Hotel) has lighter sand and waters are more shallow, which is great for younger children. It also has more opportunities to spread your own towels. And in our opinion less people.
2 sunbeds and an umbrella would cost you 18 Euro. But you are mostly welcome to bring your own beach equipment.
The part of the beach on the left side of the creek is more rocky and secluded which will suit best for couples or single travelers.
You don't need to bring your own toys for the kids, simply ask a person who is in charge of renting out umbrellas at the second part of the beach if he has some. Usually there are bags filled with toys from families who left them there at the end of a vacation.

---
PARKING
When arriving by car, you can park it behind the Cala Blanca Hotel (drive through hotel premises).
---
FOOD
For a quick snack there is a Spar supermarket next to the main road. Chiringuito Las Dalias on the beach serves dishes a la carte. For a big hunger try restaurants of Cala Verde and Cala Blanca Hotels – they have a great lunch buffet, but be sure to consult the serving times.
---
---
CALA BOIX
---
This is a small and cozy beach surrounded by beautiful terracota rock formations and greenery. It has a beach bar serving snacks and food. There is also an opportunity to rent sunbeds.
2 sunbeds and an umbrella would cost you 18 Euro.
If you come with your own beach equipment be sure to arrive early – best places are gone fast.
You have to walk the stairs to reach the beach, so taking a stroller is not the best idea. We brought our Yoyo along anyway, simply because Maxi fell asleep in it. Needless to say it was a sweaty climb =).
In our opinion of all beaches Cala Boix was the most quiet one.
---
PARKING
There is a parking lot at the beach entrance. Again, if you want to get a spot arrive early.
---
---
POU DES LLEÓ
---
Pou des Lleó is more for the views than for swimming. You can not easily go into the water here, because it is stony and has high slides. But it is cozy and gorgeous – with boat garages and a lovely beach bar it is a great place to spend an afternoon.
Kids will enjoy playing in the sand.
Pou des Lleó is also a wonderful place for observing Posidonia Oceanica plant – the unique sea plant which is often thought of being a seaweed. At the beach it provides a soft carpet and keeps the sand from washing out and in the sea it produces large amount of oxygen thus sustaining sea ecosystem. The plant is soft, it doesn't stain, scratch or sting, so the kids can play with it.
---
PARKING
There are enough parking lots here since mostly people come for the views and go.
If you have enough time be sure to walk or drive to the Torre de Campanitx for amazing views of the area.
---
CALA LLENYA
---
This beach is a picturesque one. Wide with white sand, beach volleyball area and a beach bar in the middle it is surrounded by greenery and the waters are turquoise.
It is also a popular one – among families with children and elder couples.
It has sunbeds for rent – 18 Euro for two beds and an umbrella.
First row next to the water fills up fast, so be sure to arrive early enough to get a spot.
---
PARKING
there is a parking lot at the beach entrance. Again, if you want to get a spot arrive early.
---
---
CALA NOVA BEACH

---
Cala Nova beach is lovely and has place for everyone. It could get windy and usually has more waves than another beaches. It also has sunbeds for rent.
If you are looking for an exquisit beach experience we recommend visiting Atzaro Beach Club – a first line beach club which also has a restaurant serving delicious food with gorgeous views over the Cala Nova Beach.
---
FOOD
Atzaro Beach Club serves top quality fusion kitchen while the Atzaro Chiringuito serves delicious dishes for a day at the beach.
---
PARKING
The parking lot is spacious and has enough space for everyone.
---
---
SANTA EULARIA DES RIU SMOKE FREE BEACH
---
One of the nicest beaches of the region is located in the regions capital – Santa Eularia des Riu. It is a lovely in-town beach which has beautiful sand and is protected from waves.
The beach is long and has a promenade with plenty of food and drink options along of it.
This is the first beach in the Balearic islands which prohibits smoking, making it an attractive place for families with kids.
---
PARKING
We would recommend to park the car in one of the parking lots in the city and walk to the beach.
---
---
EXTRAS
---
None of the beaches we are talking about in this post provide natural shade that is why we highly recommend you to either bring your own equipment or rent sunbeds.
If you would like to purchase your own beach umbrella check out larger supermarkets in Santa Eularia des Riu – Mercadona and Eroski usually sell them all year round.
*Our trip to Ibiza was sponsored by Visit Santa Eularia Tourism Board. However, we retain full editorial control and all opinions are our own and honest.