Crete With Kids – 7 Best Beaches of Chania Region You Must Visit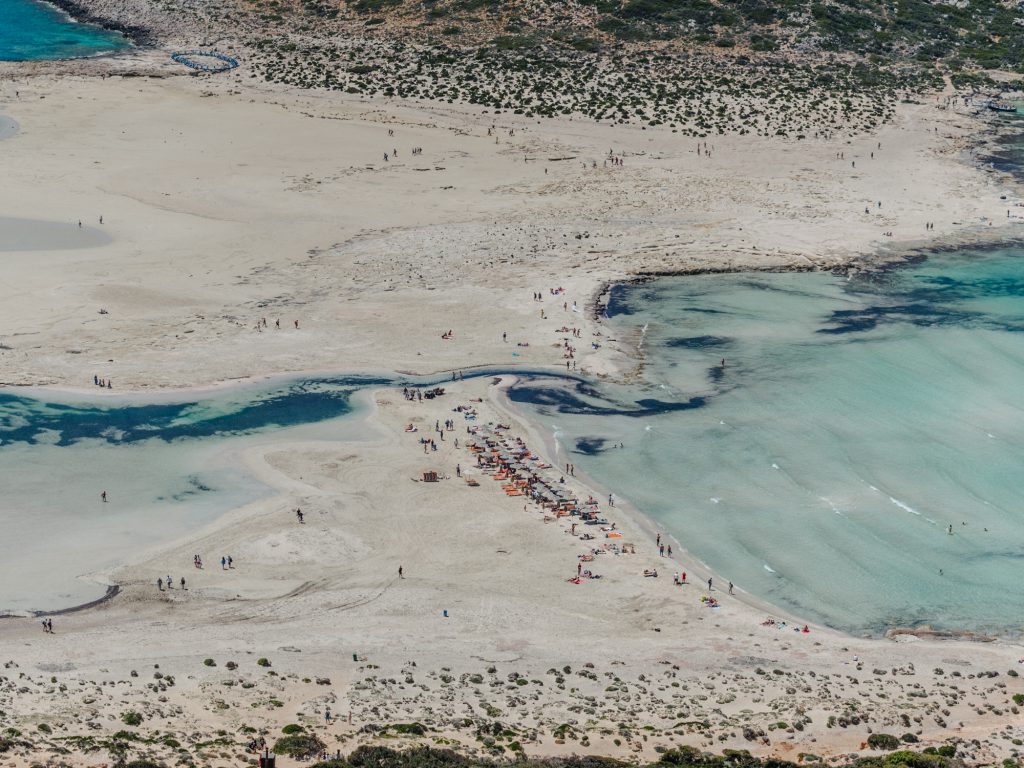 ---
Are you traveling to Crete with your family and looking for the best beaches? Chania Region aka Western Crete has some of the best beaches on the island. In this post we share 7 family friendly beaches with you.
---
When we were choosing which part of Crete to visit, first of all we checked for beach options. You might know from our Instagram posts and Stories that Olivia loves being next to the water. Actually she loves beeing in the water so we have to be in there too, no matter what temperature the water has…. but that's another side of the coin.
Long story short, if you also enjoy idyllic sunsets, building sand castles and run away from tiny feet chasing you – Chania region is your choice. It has marvelous beaches some of which are holding the title "Europe's best".
Sit back and enjoy the 7 beaches of Chania region we are about to introduce you to. Oh, and we'll totally understand if you'd want to book your ticket to Crete this summer.
Be sure to check out our detailed Guide to Your Perfect Family Holidays on Crete.
---
Things We talk About in This Post
PHALASARNA BEACH
---
Gorgeous endless white sand beach where you loose the feeling that you are in Europe. It could be Seychelles or Brazil, the only thing which brings you back to Greece are the scripts in a beach bar in Greek language
There is enough place for everyone, but the shade is almost non-existent. When we were there in the end of April the wind was strong and the waves were high.
If you need a break from the beach head to the Taverna Galazia Thea. It has a playground, gorgeous views, homemade food and it's own beach access. We also parked the car there for the whole day.
---
KISSAMOS BEACH
---
This beach is located in the town of Kissamos at it's western end. Check for Roubini Beachfor the directions which also happens to be a popular tavern.
It might not be as pretty as the other beaches, but it has a good tavern and is popular among locals. Oh, and did we mention swings?!
---
BALOS BEACH
---
Crete's classic Balos beach is the one looking at you from all the postcards and photos about the island.
Balos beach is shallow, meaning that you'd enjoy soaking in it's water like in a bathtub, but you won't do much swimming without walking long. Great for kids and for those who love shallow waters – even during off season the water stays warm.
If you like deep waters you might consider visiting Balos for gorgeous views.
Note:
The way to Balos beach is quite bumpy – after the paved highway ends you will drive for about 30 minutes through a mud road. The views are spectacular, there are plenty of goats who run next to the car and the road is broad enough for two cars. But be sure to have full insurance coverage which includes tires. It gives you a better feeling driving on the stones.
At the end you arrive to an undeveloped open air parking lot. If you want to secure a good spot be sure to arrive early.
From the car lot you still walk 2 km to the beach. It is not a difficult walk, but it's advisable to approach it in your hiking shoes or at least sneakers, not flip flops, since the road is full of stones. Elder kids can walk it without any difficulties.
Olivia walked almost the whole way down and back up. Max was traveling in Ergobaby which was fine.
If you don't want to spend a lot of time driving and walking, there is an alternative which at the end might be more child friendly – a boat from Kissamos port. It leaves in the morning returns in the evening and makes a stop at Gramvousa island with a Venetian castle serving it's main attraction. Check Cretan Daily Cruises for all the information about bookings.
Also keep in mind that the beach has only one cafe which was closed when we were there – bring water and snacks with you!
At the end of the day be sure to have some food or enjoy a drink in a Agarathos tavern.
---
VIGLIA BEACH
---
A lovely small beach next to the Kissamos port with great views over the area.
---
GERANI BEACH
---
Gerani beach is a pretty one. Long, with white sand and turquoise waters. It is located next to a lovely village of Gerani. The beach trees provide shade.
---
ELAFONISSI BEACH
---
This is another beach from a postcard. And a popular one too. It is said to have pink sand and indeed you see a tiny stripe of it when the light is right.
The beach is broad and has space for everybody. But the tourists arrive with buses from the whole Crete to visit it, so be sure to arrive early/late to avoid crowds. There is a parking lot directly next to the beach (free of charge).
There is almost no shade – plan accordingly. We had to improvise a tent which actually worked out quite well.
The central part of the beach is very shallow making it attractive for families. If you are more keen on deep waters climb over the dunes to the northern part.
---
SEITAN LIMANIA BEACH
---
Truth be told, we didn't have any time left to check out this beach. But accroding to what we read and heard it is not a difficult one to reach and it is a gorgeous one.
Packed during high season it also offers very limited shade options.
Let us know if you visited it.