Seville With Kids – Our Family Weekend Guide for the Andalusian Capital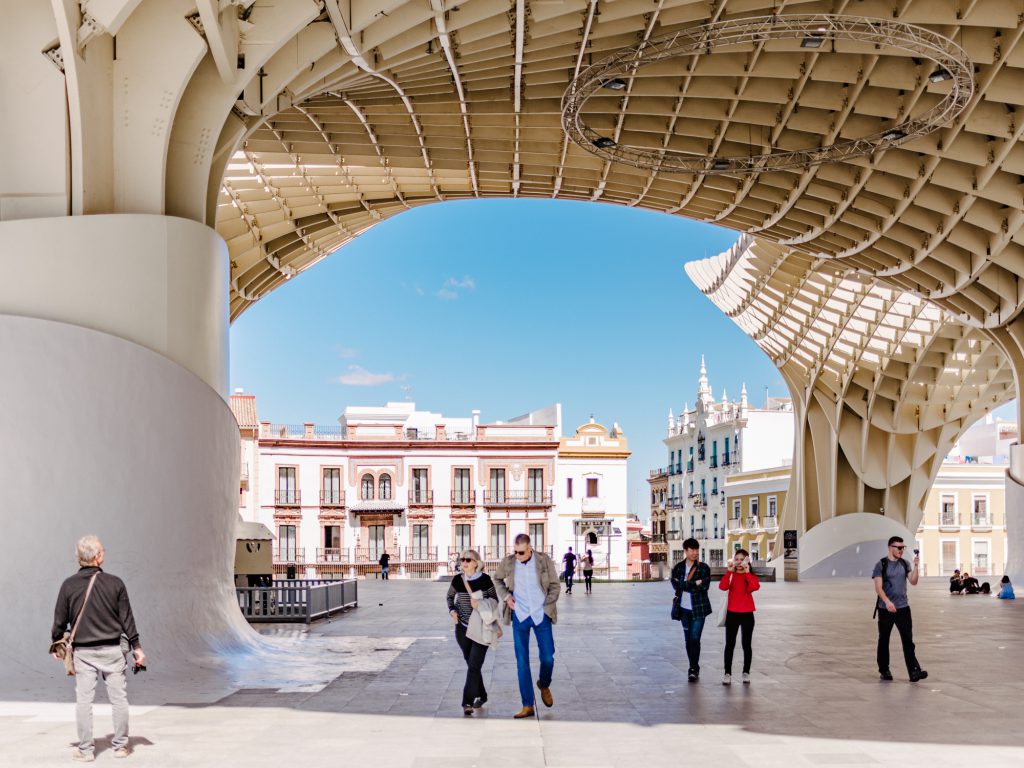 Are you planning a weekend trip to Seville with your kids? The Andalusian capital is a great family weekend getaway. In this post we share our personal favourites, the ones we have got to learn during our trip to Seville with the kids. Hope it will help you to develop your own itinerary for Seville and you will have an unforgettable family time!
---
Just something personal about Seville, before we start…
---
Once upon a time, when I was 14 years old and a quite nasty teenager at that I went to Spain with mom. Her dream was to see Granada and Seville. Mine – eating a lot of frozen juice ice-cream and complain about anything and everything (sorry, mom).
The only memory I have from back then is a yellowish photo of myself with a grumpy face infront of the Columbus monument in the World's largest Seville Cathedral. It was time to fix that memory. And as Spring is the most amazing time in Andalusia, we got our tickets fixed and flew in for a long weekend.
This time I was a mom. And even though our kids are far from being teenagers, I'm sure you agree that city trip as a couple and city trip as a family is a completely different challenge.
Saying that, let us share with you what we managed to discover in Seville with our kids.
Follow us on Instagram for the latest Stories and Photos from our Travels
---
Where to stay in Seville With Kids
---
You migt know by reading through our blog and Instagram that we are not fans of crowds and enjoy staying among locals to feel the atmosphere. Crowds and kids are in general not a good idea.
It is actually not so easy to travel to a VERY popular place and fullfill the wish of being the lonesome traveller. But there are some ways to see these places from a different perspective.
Seville is no exception. That's why when choosing a place to stay we decided against the city center and opted for the northern area of the city – around Plaza de Pumarejo.
It is a lovely neighbourhood with Calle San Luis and Plaza Calderon de la Barca being some of the trendy areas for going out. It is residential and you have more locals than tourists on the streets. Long story short, we would stay in the area again next time.
Have a look at our posts about Spain to help you plan your itinerary.
---
---
Moving Around Seville With Kids
---
Seville is made for walking and wandering around – be sure to pack comfortable shoes. If you are kids-free you can walk from one side of the city center to the other one within an hour or so.
From the place we stayed at Plaza de Pumarejo we didn't manage to walk all the way to Plaza de Espana. There simply were too many curious things to explore for kids, like horses and playgrounds along the way.
What pleasantly surprised us when we were trying to find our way through the narrow streets of Seville with kids, is that most of the city center and it's neighboburhoods have well paved roads and no curbs. Which is brilliant for those families walking around with strollers (here here). Curbs are actually there, but they are marked on the pavement so the whole street stays even.  Big hug goes to the city development for that!
---
---
Seville Sightseeing With Kids
---
Apart from the main attractions in the city center which should not be missed, there are some other interesting ones worth visiting! We also found that it was easy to do sightseeing with kids, since there was always a story to tell or a wall to climb. Here are some sightseeing ideas for your weekend trip to Seville with your kids:
---
Address: Calle San Luis 37
This Catholic church is absolutely stunning – from the inside and from the outside. Especially during the dusk hours when everyone rushes to an evening mess. It is NOT open all day round – consult the opening hours if you want to visit.
---
Area around Puente de Triana
The bridge of Puete de Triana is also known as Puente de Isabel II. There is a green area with plenty of shade between Puente de Triana and the next bridge Puente del Christo de La Expiracio where it is nice to stretch your feet and let the kids play while watching the local students kayaking on Guadalquivir. Great for watching locals on their lunch breaks or students sunbathing.
After having some rest be sure to check one of the lovely markets  nearby.
Mercado Lonja del Barranco is more of a food court with a fancy touch than a real market  – with food stalls inside and outside. It has an outside sitting area too.
Triana Market is a real market with produce like fruits and vegetables as well as meats and cheese to choose out of. There are food stalls in there too. Be sure to try out the mouthwatering deserts from Bocasu. 
Follow us on Instagram for the latest Stories and Photos from our Travels
---
---
Climb La Giralda Tower
---
Don't forget to climb La Giralda for spectacular views over Seville. The entrance to La Giralda is included in the price when you get the ticket for Seville Cathedrale. When Giralda was still in use, the patrol would go all the way up on horses, what for us parents these days means that there are no steps and the passage is broad enough to walk with a stroller. It's a sweaty job anyway, but climbing la Giralda is an iconic experience every traveller shouldn't skip upon.
As a bonus you will get incredible views over the rooftops of Seville, which kids would love too.
P.S. The Cathedrale is also easy to navigate with a stroller.
---
Walking the Routes following the Famous Opera Settings
---
No secret, that Seville served as an opera setting inspiration for many composers across the centuries. Carmen, Don Juan, Figaro – we are sure you've heard the names. When I (Alexandra) was in music school we would spend hours talking about how and where these masterpieces were written.
If you are also keen on walking the "opera routes" ask for a special map at the tourist info which will walk you through the city explaining the music details. A
It is also a great option for introducing your little ones to the classics in a playful manner – the stories and the mysteries – kids love that!
---
Visit Las Setas – a relatively New Addition to Seville Cityscape
---
If you enjoy spicing up your walks with interesting places than be sure to pass by Las Setas which means 'mushrooms' in Spanish. It is a relatively new (2011) addition to the cityscape made out of concrete and wood. According to the Wikipedia, this is the largest wooden construction in the World. It's official name Metropol Parasol and it is a lovely area to explore.
The rooftop of Las Setas offers spectacular views over Seville and you can also go there with your kids.
Follow us on Instagram for the latest Stories and Photos from our Travels
---
Eat and Drink in Seville With Kids
---
Do we need to say that Andalusia is THE Capital of tapas?! And with Seville as it's leader we don't think we need to explain further. It's all about eating, drinking, going out and spreading great mood – actually it is not so difficult when you are surrounded by gorgeous architecture and sun all year round.
Please note, that due to the current pandemic situation of Covid-19 there might be a change in the operating hours and time schedules of markets and restaurants. Please check the official government regulations and opening hours in advance and stay safe!
---
What to Expect when Eating in Seville with Kids
---
It is very easy to find food for everyones taste. Olivia, our daughter, had a lot of fun trying out from the tapas plates and chewing on bread sticks. 
The prices are very reasonable. Just to feel the relation, a cup of coffee and a piece of toast covered in tomatoe slush+olive oil and a glass of fresh orange juice costs about 5 Euro.
But don't forget that Spain eats late – be ready to adjust your kids sleeping times if you want to dine with locals!
Here are some of our favorite places:
---
Our Favorite Breakfast and Coffee Spots in Seville
---
Address: Calle Peris Mencheta, 15
This is a great place for a traditional breakfast. The menu consists of different types of bread and toppings which you combine. The most popular one is "pan con tomate" – toast with tomatoe slush spiced with olive oil and salt. The one the whole Andalusia eats for breakfast. Be sure to have a seat outside and watch the sun rising above the Iglesia de Omnium Sanctorum while the city is busy running errands.
---
Piola
Address: Alameda de Hércules, 55
The menu is the same one as in Hercules, but the sitting area outside is way larger. It is good choice for breakfast with kids – there is no direct access to traffic and there is a playground right in front of the cafe.
---
Kukuchurro
Address: Calle Regina, 15
For those who want to have another Spanish favourite – churros, this place is a good choice. Freshly fried they are served either with hot chocolate or sugar powder.
---
Address: Calle Canalejas, 7
​You might know this bakery and coffeeshop from Barcelona. A great one for a quick bite and a cup of coffee.
---
Address: Ave. Paseo de las Delicias, 3
​Located right next to the University this is a lovely hipster cafe and coffee roasters serving a good cup of coffee with a snack. Also great for spying on latest trneds on young people.
---
Address:  Calle Huelva nº5
A lovely bakery and a coffee shop.
---
Address: Calle San Luis, 46
If you are more into late breakfasts aka brunches than this is the place for you. Lovely setting and tasty food. Located in a lovely neighbourhood too.
---
Address: Calle Regina, 1
For a good cup of coffee and a small snack this place is your choice.
---
Address: Calle Puerta de la Carne, 7a
Coffee, juices, snack in a lovely atmosphere
---
Our Favorite Tapas Spots in Seville
When in Andalusia you got to try tapas. It is not only about variety. It's also about tradition. In Andalusia you get a small place with every drink you order. Don't rush in ordering a whole meal. As soon as you order a drink a small plate with food will appear next to it. After a couple of drinks you might not need a complete plate after all.
These are some nice places to start with:
---
La Brunilda Tapas
Address: Calle Galera, 5
---
Address: Calle Julio César, 14
---
Casa Ricardo Antigua Casa Ovidio
Address: Calle Hernán Cortés, 2
---
Address: Calle Hernando Colón, 8
---
Address: Calle García de Vinuesa, 11
---
La Flor de Toranzo
Address: Calle Jimios, 1
---
Address: Calle Estrella, 3
---
La Trastienda
Address: Calle Alfalfa, 8
---
Address: Calle Alfalfa, 4
---
Address: Calle Cpataz Manuel Santiago,1
---
Address: Calle Gerona, 40
---
Address: Calle Lineros, 9
---
Address: Plaza Cristo de Burgos, 19
---
Our Favorite Spots for Going Out in Seville
---
We know, we know we are traveling with kids, so going out is usually not on the list. BUT that's what Andalusia is all about – you just take your little one with you to a tapas bar and that's fine with everyone. We did too. Yes, we are this kind of parents. Our youngest was sleeping in his stroller and Olivia was happily jumping around and playing football outside with other kids. 
Here are a couple of places worth checking out for your family weekend in Seville:
---
Casa Vizcaino
Address: Calle Feria, 27
A lovely bar serving drinks and small snacks. Packed during lunch and evening hours.
---
La Barrica de Debla
Address: Calle Relator, 91
A lovely wine bar in a nice area.
---
Address: Calle Jesús del Gran Poder, 83
It's all about craft beer here.
---
Another great Andalusian gig is going outside and having a drink infront of a bar. Meaning a whole street or a square becomes loud and lively during the late evening hours. 
Plaza de Pumarejo, Plaza San Marcos or area around Mercado de Feria are lovely areas to start your evening.
---
---
Our Favorite Ice Cream Spots in Seville
---
Just in case you need a power remedy to keep the kids going when roaming the streets of Seville, here are some "power pills" serving delicious ice cream:
---
Heladeria Artesana La Fiorentina
Address: Calle Zaragoza, 16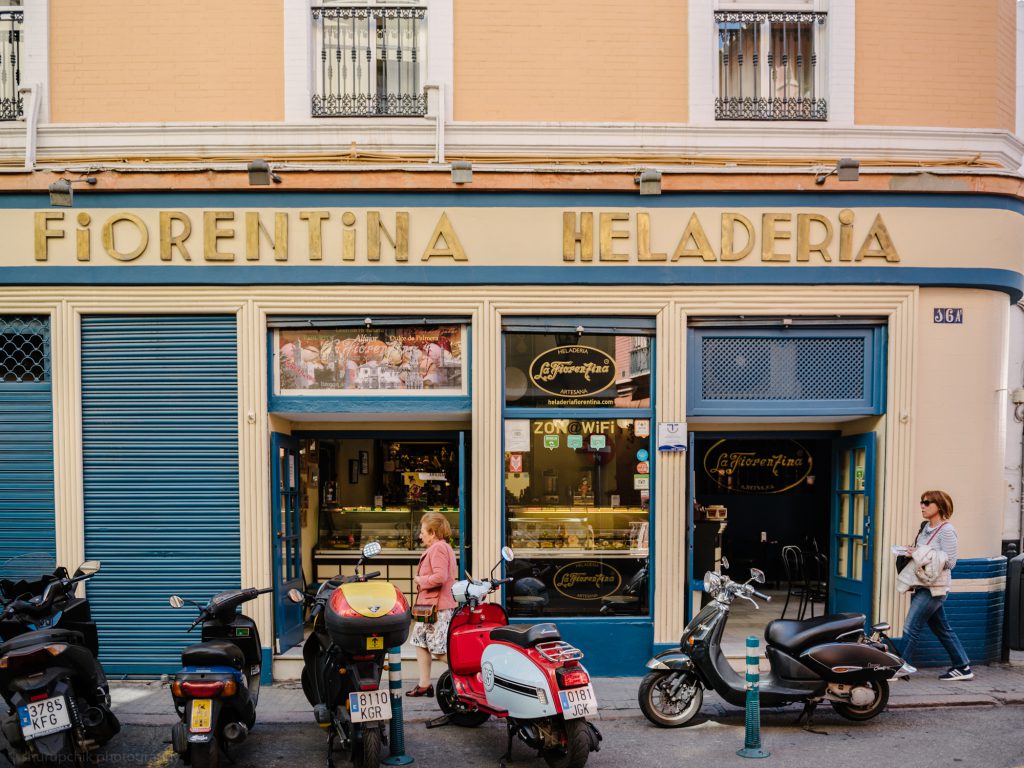 ---
Bolas
Address: Cuesta del Rosario, 1
---
Address: Calle Vulcano, 4
---
In Case You Want to Do Some Shopping During Your Family Weekend in Seville
---
Let's be honest here. We didn't visit a single shop selling clothes or anything similar. And even though we like checking out local businesses and finding something unique, there was no time and actually desire to go inside.
We bought our groceries at the corner shop and on a first day we got a huge bag of oranges (2 Euro) to squeeze them every morning for breakfast.
But! We visited markets (read more in the Sightseeing section) and managed to get some good recommendations for you
---
Ceramica Ruiz
Address: Calle San Jorge, 27
---
Address: Calle Alfalfa, 7
For gorgeous textiles and accessories check out this lovely store next to Plaza de la Alfalfa.
---
If you get up early on Sunday, than head to the Alameda de Hercules for the arts and crafts market. It takes place every Sunday starting from 07:30 am and you will have a chance to find something unique there.
There are also some lovely flamenco shops if you want to purchase a fun gift.
---
---
Some Extra Tips for Planning Your Family Trip to Seville
---
Getting up early is a great idea if you want to have the whole city for your own and share a cortado with locals.
If you want to move fast – public transport or bike rental is a good option.
If your kids are older than ours than kayaking on Guadalquivir is a great idea to see the city from a different perspective.
Rooftop swimming pools are very popular in Seville. So choose the place you stay wisely – you'd be grateful after a long day of walking to freshen up and soak in the water.
Oh, and if you want your kids to socialize and find playmates be sure to stop at a playground. Spanish kids seem to love them and we spotted quite some of them throughout the city.
The one at Plaza de la Alfalfa even has an "evening show" with jugglers.
Our favourite playground in Seville was at Alameda de Hercules next to Piola bar.
---