48 hours in kutaisi – things to see and do in the georgian city of smile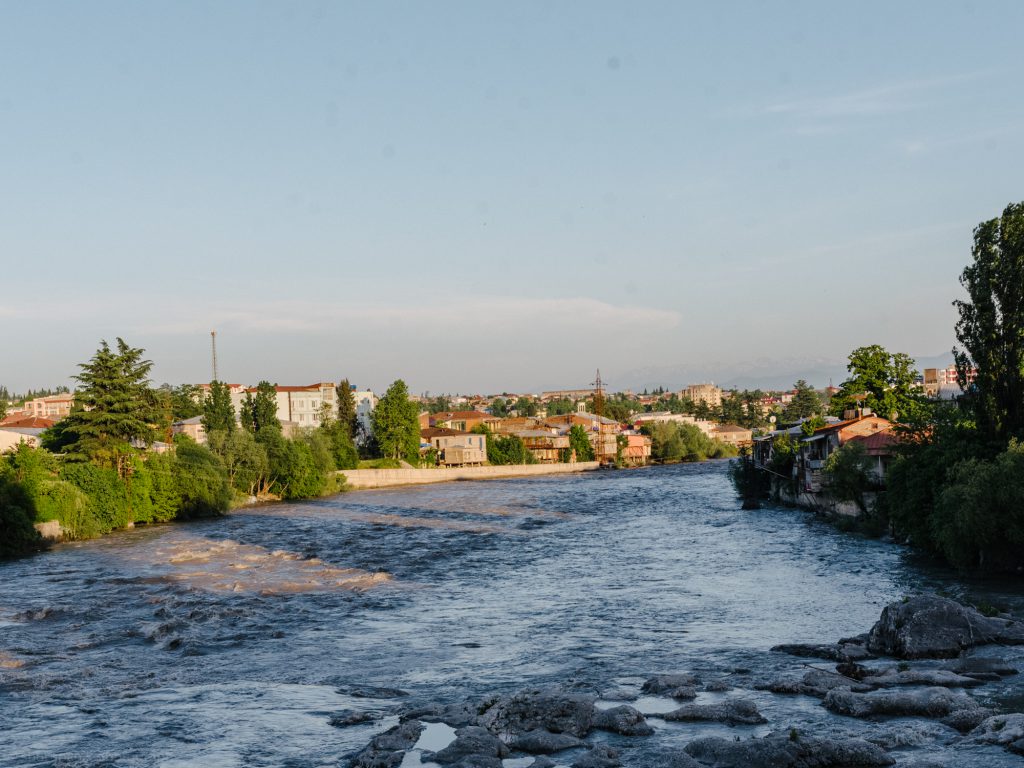 ---
Hello everybody, today we want to take you to Kutaisi, Georgia.
The country of Georgia has been sitting on our bucket list for a long time. Georgian cuisine (it is very popular nowadays in Russia), Georgian history, relatives coming from the Caucasus – it all rang a bell.
And how off the beaten path is yet still Georgia? Although the number of foreign visitors is growing, it is definitely not (yet) one of those places that gets flooded every weekend with masses of tourists. And yet European low cost airlines recently discovered Kutaisi as one of their destinations which makes it very convenient and easy to reach.
So this May we finally got the chance to come to Kutaisi on behalf of Kutaisi.Travel. This was a good opportunity to start our relationship with Georgia.
Unfortunately, in the end we didn't make it there as a family – Alexandra stayed home with the kids. But Florian flew in for a weekend together with his friend and professional photographer Moritz and is going to share his impressions and tell you what one can do in Kutaisi in 48 hours.
---
A BIT ABOUT CULTURE AND HISTORY
---
I'm sure you all remember the myth of Jason and the Argonauts and their thorny path on the recovery of the Golden Fleece from the kingdom of Colchis. I can bet that we all think about Greece here.
And not until I arrived in Kutaisi did I find out that this tale did not take place anywhere where I expected but nowadays Georgia. To be more precisely in nowadays Kutaisi.
Kutaisi is located in the region of Imereti in a valley between the Caucasian mountains and another mountain range which locals call "little Caucasian mountains" and some 100km east of the Black sea.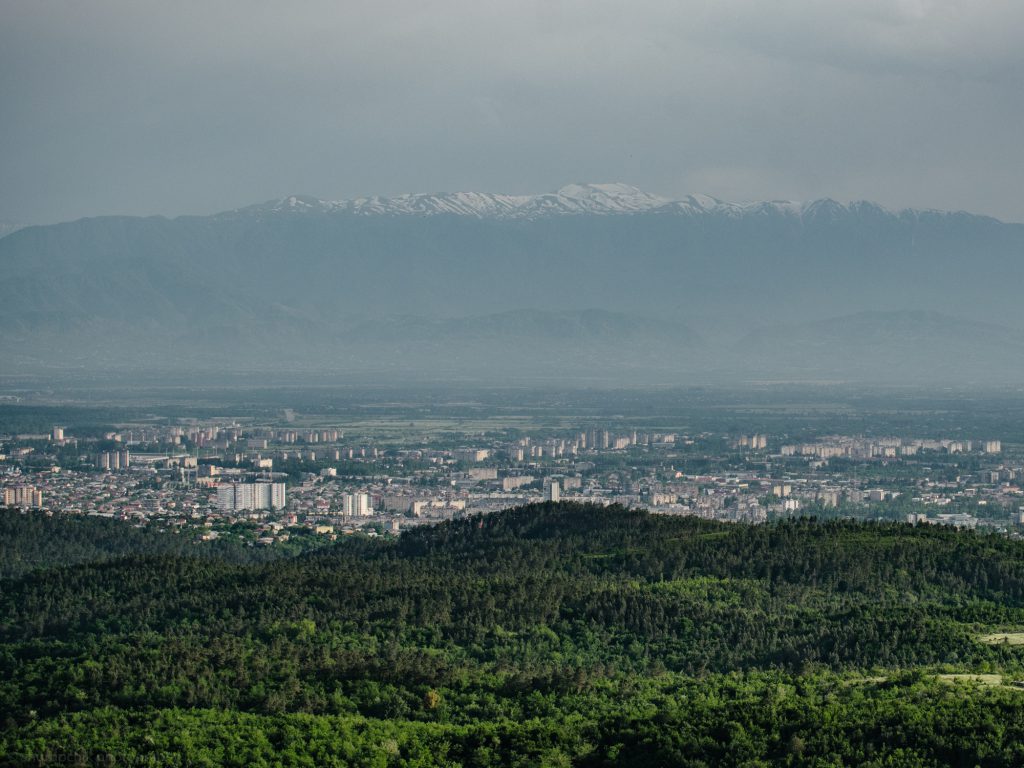 ---
CLIMATE AND WHEN TO GO
---
Kutaisi is blessed with warm subtropical weather. Best times for visiting Kutaisi are Spring and Fall when the temperatures compared to central Europe are pleasantly warm and precipitation is rare. Summers can get warm and humid.
---
MOVING AROUND
---
The city is rather small (around 150k inhabitants) and most sights in the city can be done walking.
The airport is about 20-30 minutes away from the city and many accomodations offer a pickup service.
Taxi is the most common way for tourists to see points of interest outside the city. They are affordable and you can hire a driver according to your needs and wishes – half day, whole day or even longer.
No recommendations here, since we had everything organised in advance, but in Georgia everybody knows somebody who knows a good taxi driver. So don't worry as soon as you spread the word that you are looking for one he will find you himself!
SIGHTSEEING
---
The city center is the historic part of the city, especially the area east of the "White Bridge" across the river Rioni. It is said that by this river how Jason and the Argonauts arrived.
After arriving take your time to settle down by slowly discovering the historic part of city by foot. In the streets alongside the main square you will find some older buildings (partly also offering some Soviet charm), there is a Jewish quarter, the Colchis Fountain – here look for a statue of the "Tamada" (toastmaster) – a very important person at every Georgian happening.
The Kutaisi State Historical Museum is worthwhile for a short visit giving you some impression on the prehistoric past of the area.
Later during the day try out the old cable railway up the hill – which supposedly Stalin opened himself. If you are still able to walk, you can go from there to the Bagrati Cathedral for sunset. Here you will have a spectacular view of the city. The area is also popular among locals for watching sunset.
---
OUTSIDE THE CITY
---
Once you have discovered the city, you can organise an excursion to the surroundings of Kutaisi. For this you will need a car with a driver, a taxi or an organized tour. Here are some ideas on how to organise a tour in Kutaisi.
---
OPTION ONE
As a half day tour I can recommend a visit of the Prometheus Cave. This underground walking tour stretches for around 1500m and finishes off with a small boat ride (maybe take a sweater along as it gets chilly inside also in summer).
This trip can be combined with a visit of Sataplia Nature Reserve. Besides another smaller cave, you will have the possibility to make a walk in the local forest, study a site where dinosaur remains were found and there is also a great lookout point with panoramic views facing Kutaisi and the "small Caucasus".
What I really enjoyed was that on the way going and coming back you are able to enjoy the beautiful landscape and get a glimpse of rural life in Georgia.
---
OPTION TWO
Plan another half a day to visit one or two monasteries in the surroundings of Kutaisi. We visited Motsameta and Gelati Monastery (Unesco World Heritage Site). While the monasteries are located quite close to each other, the ride from Kutaisi to reach them takes around one hour.
To spice up your experience making a stopover at Agro Guesthouse / Rural Guesthouse Korena for a homestay experience, including rural life and excellent homemade food. Not to underestimate the hospitality of lovely Maiko.
---
ACTIVITIES
---
If you have enough of eating and sightseeing, you can consider starting some activities:
This could be a rafting tour like we did on the Rioni river. The tour we did goes right through the city center of Kutaisi, takes around 20 minutes and combines a spectacular view with a lot of fun. It is a level 2-3 ride and is also good for beginners. Including transfer and preparations, schedule 2-3 hours for the rafting experience.
We did the tour together with Rafting Kutaisi, a team of highly qualified rafting enthusiasts. They also offer longer and/or more extreme tours or alternatively guided tours into the Caucasian mountains.
SHOPPING
---
You know that we LOVE visiting local markets, so I also didn't miss on that in Kutaisi. Kutaisi market is supposed to be the best one in Georgia, so be sure to spend enough time there. It is an great indoor farmers market selling local herbs and cheese and especially lots of walnuts (there is a lot of walnut production around Kutaisi). Speaking about walnuts – be sure to try the local sweet Churchkhela. You will find these icicle shaped deserts being sold all over the city. Different nuts (originaly walnuts) are threaded onto a string and than dipped in thickened grape juice or fruit juices and dried.
Although the market is open all day, it's always best to visit it in the morning hours to absorb it's lively atmosphere. It could be a nice idea to do this the first thing in the morning.
Kutaisi Market
Address: Phallashvili Street
Opening hours: 07:00 am to 05:00 pm
EAT & DRINK

---
Georgian food and in particular the local Imereti cuisine awaits you with freshness: lots of greens and herbs – directly from the garden or the local farmer's market – but also an incredible amount of different cheese.
One of my favorites throughout this trip were dips called pkhali. They are mostly based on walnuts. Together with ingredients such as eggplant, beetroot or the smilax (a green herb) they make an excellent appetizer or side dish.
A Georgian meal can be cold and consist out homemade wheat bread, a bread called mtchadi made from corn, several different fresh greens and a bean paste called lobio.
Mtsvadi is meat on metal skewer and is considered one of the local classics. Alternatively, meat in a spicy herb sauce is also a favorite.
Khachapuri is a flat bread with some kind of cheese filling is a must try!
Khinkali and how to eat it: You will not be able to taste all together at once, simply because the dishes are very filling and the amount you get served is large. But reserve one meal at least for Khinkali.
These are steamed dumplings mostly filled with meat and broth. They reminded us a lot of Xiaolongbao in Shanghai, China.
Khinkali are eaten with your hands, however before eating them, at first the broth has to be carefully sucked out (beware, it is very hot and very easy to be spilled). The top part where the dough is pinched together is left behind and is used only for holding the khinkali.
Khinkali are usually not served in restaurants but in typical Khinkali-taverns. Together with Chacha (strong Georgian alcohol mostly made from grapes, similar to pomace brandy/grappa) it's an experience you will not easily forget.
The Georgian cuisine is definitely one of the top reasons for me why one should travel to Georgia! And let's not forget that the best meals are always homemade – homestays are your choice!
Papavero
Address: Tsisperi Kantselebi Street
A restaurant serving traditional Imereti and European food as well as bar.
Address: Pushkini Street II
Argo
Address: Rustaveli Street, 9B.
Our garden
Address: 23, Bagrati Street
El Depo
Address: 10 Ioseb Grishashvili
COSTS
---
Last but not least, Georgia is a budget destination for a European pocket which adds to its attractivity. As far as we can consider you will find wonderful accomodations for a reasonable price.
To give you a scale a set of 12 Khinkali with chacha will cost you about 15 Georgian Lari (about 5 Euro).
a bottle of local beer is about 3-4 Georgian Lari (about 1 Euro)
a 3 course menu in a mid-rangerestaurant for 2 persons costs about 60 Georgian Lari (roughly 20 Euro)
a box of eggs is about 3.50 Lari (about 1 Euro)
If you have more than 48h to spend in the region – and I would also love to come back to Kutaisi with more time – I would definitely like to get to know more of the countryside, spend some time at a homestay, maybe take some cooking classes (I understand that some home stays also offer so called "cooking master classes") or travel into the mountains and do some hiking maybe even a multiple day hiking tour.