Castelluzzo – The Best Place to Avoid Crowds on Sicily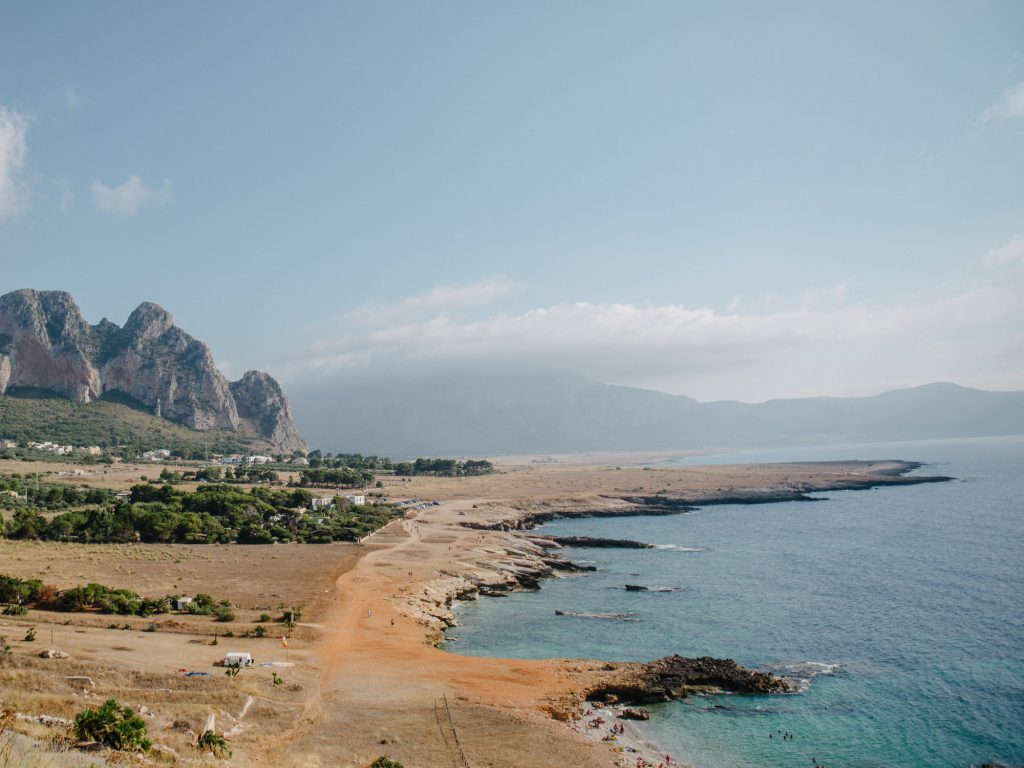 ---
These days we are all searching for a less traveled destination and try to avoid crowds. In this post we are sharing our tip for Casteluzzo – a hidden gem of Sicily.
---
Our car enters Casteluzzo at dusk. 1.5 hours drive from Palermo through curvy highway filled with construction signs gladly ignored by locals and we spot the sign of the village we are aiming for.
High hills with olive trees on their slopes, golden light and sea breeze greet us as we consult the navigation system for our street.
Later we learn that there is no wrong turn in Castelluzzo – the whole village consists of one main street and 4 side narrow streets which eventually will lead you on the main one.
---
---
---
About the Place we Have Stayed at in Casteluzzo
---
Arriving at our home for the next week – a lovely barn surrounded by fig and olive trees we set up a simple dinner al fresco and go to bed early.
Our morning starts at 5 a.m. We wake up from rooster calls and open window shades to watch the Moon go down behind the hills. Olivia, our daughter, is excited to hear the roosters and repeats the 'cock-a-doodle-doo' all morning long. In her funny Russian-German mixture of a language. As the Moon lazily rolls behind the horizon we unpack our suitcase and dress for the day. Sunscreen and a straw hat are to become our companions till the end of this vacation.
The water pipe sings its song, roosters go to sleep and we make our way outside to explore the village we vaguely have seen the other night.
On the kitchen table there is a basket and a note from our house owner. We peak inside – tomatoes and figs. 'From the garden' the note says. And continues: "Let us know if you need more". The basket is filled to the brim.
Follow us on Instagram to see our latest travel stories
---
Casteluzzo is a Small Village
---
On our way to the bakery to get fresh cornetti we hear 'Buongiorno, ciao' and send them back smiling politely. You know that you are in Italy when an elder lady approaches our little one with 'Bella Bambina', pets her cheek and sets off with her bag full of fresh tomatoes leaving Olivia in astonishment.
Casteluzzo is a small village, but it has everything one needs – a butcher, a fish store, 2 bakeries, a gas station, 1 restaurant, 1 pizza place, 1 ice cream shop, 2 bars and 1 post office. There is also a small Verdura shop run by friendly Maria where she sells fresh produce, home baked cakes and arancini (stuffed fried rice balls – typical Sicilian food) and cold beer in the front. If you ask her for prosciutto and parmesan large chunks would appear on the counter promptly brought from the back of the store by her son. There used to be a wine shop, but it closed down.
Follow us on Instagram to see our latest travel stories
---
The beach in Casteluzzo is of Walking Distance
---
Local families share their street with B&B's, but even though it's August – a high holiday season time in Italy – we hardly see any guests. The street stays empty except for the cars rushing towards the beach and further off to Cap de San Vito drivers stopping at a Gelato shop to snack on fresh brioche con gelato or drink fast espresso at the bar.
The beach is also nearby – only 5 minutes away by car. We take a car – it's way too hot for a 30 min walk. When we arrive at a parking lot we learn that you we are not allowed to drive further and have to board a small train which brings us to the beach. It's free and stops at 4 different locations. Olivia is excited and people on the train are excited about our blonde little girl. We hear only Italian, no other languages spoken.
After 5 minutes drive we hop off at a third stop – Spiaggia di Cala Bove – and discover a wild beach with stones and sand with only 2 other couples on it. We chat to one of them, an elderly Italian couple who relax in the shade of their beach umbrellas. Putting sudoku aside Domenico and Angelica tell us that they have been traveling a lot, but always keep returning to this spot – no other place won their hearts as deep as this little piece with sandy rocks.
Need more tips for traveling around Western Europe? Have a look at these posts of ours
---
In Casteluzzo the Life Rolls Slow
---
When midday strikes we pack our stuff and take the train back to the parking lot. It's time to go inside. The sun is burning, all the doors close and Castelluzzo goes silent until the sun goes low and spreads golden light all over the village.
When dusk covers Castelluzzo doors open, and chairs appear on the street with villagers catching up on the latest news until it's time to go back inside and prepare dinner.
We unpack produce we bought at Maria's shop, wash some tomatoes from the basket, pour a glas of wine and sit back absorbing the evening under the roof of grape leaves.
Our first day in Castelluzzo comes to an end. We go to bed early just to get up with roosters the next day again.
---
Some Handy Tips For Planning Your Trip to Casteluzzo
---
Bring along: beach shoes for entering the sea, sunscreen, umbrella, beach towels, hat.
Food: For fine dining option head to Enoteca Randazzo a lovely tiny restaurant and wine shop selling local wines and serving delicious local food on a daily basis (open for diner only). Run by friendly Salvatore and his fiancee it's a place to sit back and enjoy the evening.
Next big supermarket: Mio Mercato Superstore (ADDRESS: SP16, 5, 91010 San Vito lo capo).
Next beach with amenities (and crowds): San Vito Lo Capo public beaches.
Driving distance from Palermo airport to Castelluzzo: about 1 Hour. From Palermo city center: 1.5 Hours.
House on the photos: Casale Casteluzzo via The Thinking Traveller.