stopover in qatar – 5 reasons to leave the airport and see doha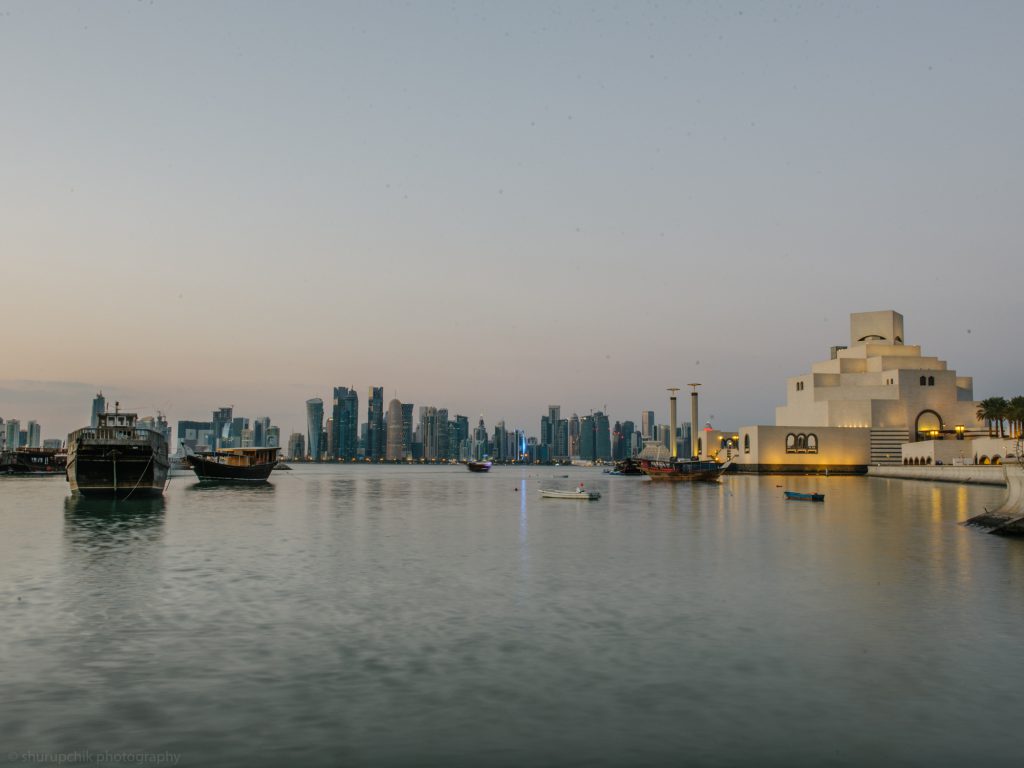 When flying from Europe towards the East you'll mostlikely end up on a flight layover at the Hamad International Airport in the State of Qatar. Most travellers don't leave the airport premises and rush to their connecting flights. But if you have time we'd recommend you spare some of it and visit Doha, Qatars capital. Why? Here are our top 5 reasons.
Arab World from another perspective
---
Qatar ruins stereotypes of the Arab World – it's modern and well developed. In fact it's developed so well, that it has the highest per capita income in the world. And you see it on every corner at every step you make, every face you look at.
People resemble confidence and wealth. Qatar is taken care of by immigrants (mostly from Asia), but they treat their new home with respect and adoration. Every here and there you will see new buildings one posher than the other rising like mushrooms in a forest after the rain.
Qatar's capital Doha is permantently changing and it is very thrilling to observe this change.
Souq Waqif and Falcon Souq
---
Market (souq) shopping is a huge part of the Arab culture and you should't miss on wandering around and soak in the atmosphere.
Qatar souq's are clean and modern. We'd recommend you visit Souq Waqif – this is the main market which has been rebuild to resemble the traditional arcaded architectural style, but is actually new.
You also shouldn't miss on Falcon Souq. For centuries falcons have been a part of the tradition and that's where they could be obtained. There is also a falcon hospital there. It is interesting and at the same time disturbing for an undadicated person to see birds perched on pillars with their eyes covered and waitiing to be sold. Falcons are an expensive treat with some birds prices competeng to an expensive car. Shop owners are very friendly and welcoming, so be sure to come inside and watch the buying procedure.
Oh, and the main market rule is 'always bargain'!
Museum of Islamic Art
---
The museum holds one of the World's most important collection on islamic art.
It is worth visiting not only for it's collection, but also for an impressive architecture created by Ieoh Ming Pei. Space, light and power are the first words which come to our mind if we were asked to describe the museum. It also hosts a nice cafe with a great view over the new Doha.
The entrance to the museum is free.
Doha Corniche
---
A 7 km long promenade around the gulf, which connects new Doha with the old one and continues to the Hamad International Airport. It is where the life is pulsating, especially at the dusk hours. Families, couples, friends, people playing soccer or jogging – you will see it all.
When the lights turn on and the sun goes down many rent traditional boats (there are plenty of the standing at the gulf) and enjoy a peaceful ride across the gulf under cooler evening temperatues.
---
This is a newly built open-air cultural center which has an open amphitheater, an opera house, a multi-purpose cinema, a multi-purpose conference hall, a beach access, and a souq. It also has some cafes and kids entertainment area.
An art and culture museum is worth a visit too. Withing the premises you can get a ride by stopping any of the gold carts driving there en masse. Chapati & karak cafe is very popular among locals for take away.
Katara is worth visitiing for local life spotting and for cultural experiences.
Tips
---
Visa
Most of nationalities (including Russia) are eligible to get a visa upon arrival, meaning you don't need to organise anything in advance. Check over here if you need a visa.
---
Getting around
the easiest way is to take an Uber. Taxi's are also a good alternative, but you have to be careful and always ask for "meter" or fix the rate before entering. Turquoise colored taxi's have prooved to be fine.
---
Visiting the desert
If you have some extra time make sure to organise a tour to the desert. I heard they are great.