Estonia with a baby – our 3 days road trip itinerary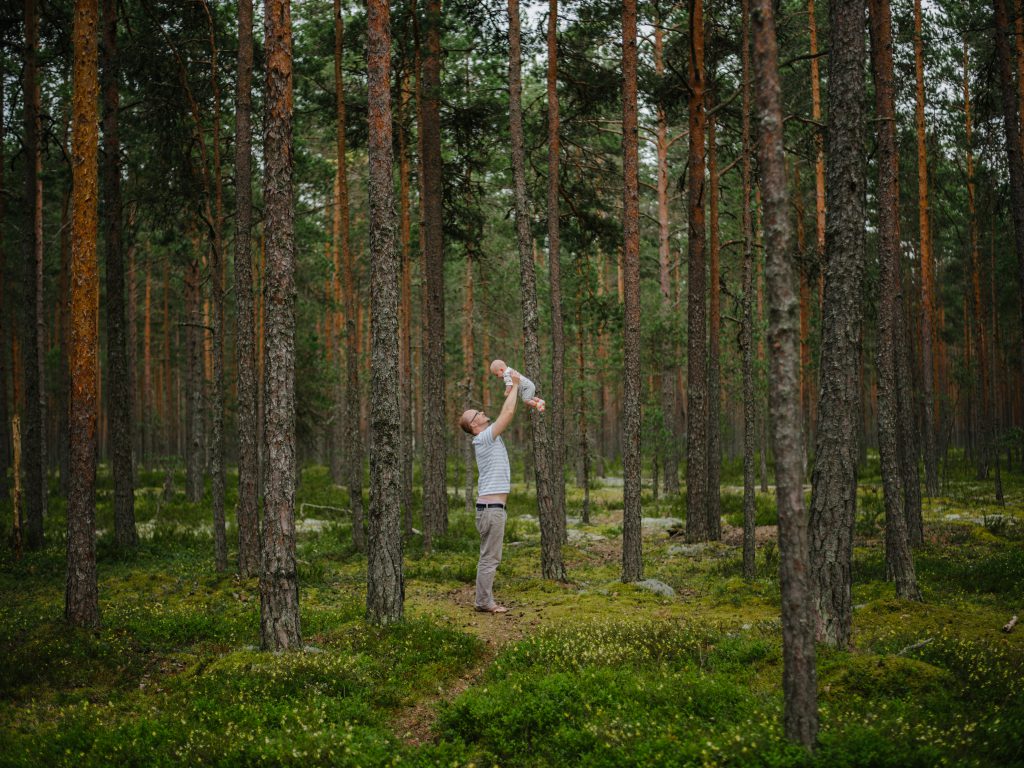 If you are looking for an easy road trip to take with a baby – may we suggest you Estonia. In this post we are sharing our 3 days road trip itinerary for Estonia. The one we took with our Olivia when she was 6 months old.
---
About our road trip through Estonia
---
Since I moved to Germany in 2007, I try to visit my home city St-Petersburg, Russia at least once per year and end our visit there with a road trip. It became an unspoken summer tradition.
In August 2016, when our daughter Olivia was just 6 months old, we decided to drive from St-Petersburg all the way back home to Dortmund.
We had only 7 days in total and after some back and forth we decided to invest them in road tripping through the Baltic States only. Simply because Estonia, Latvia and Lithuania have so much to offer.
That is to say, our whole road trip took us all the way from St-Petersburg, Russia to Vilnius, Lithuania. This post is about Estonia – our first country on the road.
Our goal was to have more nature than cities. In other words spend time walking in the National Parks and visiting smaller villages.
---
About Estonia
---
From the distance the Baltic States are treated as equals, due to their Soviet past. But after road tripping through them we have noticed that they are not so much alike.
Estonia is the most Europe-oriented of the three. The roads are in good conditions, all paths and routes are clearly marked, making it easy to navigate.
After adopting the Euro in 2011, you can really see how hard Estonias work on their country's development, on reaching the better life quality.
If we were asked to describe Estonia in one word, we'd choose 'the Nordic Country' (okay, it's more than one word, it's a term). But you feel proximity of Finland and Sweden in local design and the way locals treat their natural resources.
Estonian nature is very similar to the one of the northern regions of Finland – filled with pinery and granite boulders.
The younger generation of Estonians speak fluent English, the elder one still speaks Russian.
From what we have noticed, Estonians are very friendly and love children.
OH, and did you know that Skype was invented in Estonia?! That is to say, Estonia is one of the world leaders in IT industry development.
Follow us on Instagram to see our current travel stories
---
Road trip through Estonia with baby – Day 1
---
Narva
Narva was our entering point to Estonia from the Russian side. Unfortunately, we didn't have much time to spend there, because we had an appointment in Tallinn.
Narva does have some nice sightseeing spots, with the Narva fortress or Hermann Castle, being the most prominent one. It was built in the alert 14th century and got it's German name because it belonged to the Livonian Order throughout the history.
The Castle stands on the Narva border which serves as a border to the Russian side. From Hermann Castle you can see the Ivangorod Fortress on the Russian side.
Two cities Ivangorod, Russia and Narva, Estonia are just across the Narva river.
The drive between Narva and Tallinn takes about 3 hours.

If you are traveling to St-Petersburg by train, you can get off in Narva and arrange a rental car. Narva is the first stop after the Russian border.
Tallinn
Tallinn was the only 'big' city on our road trip. As we have mentioned earlier, we didn't plan no spending time for city trip – with a baby we wanted to enjoy nature.
But having an appointment in Tallinn, we have spent there the whole afternoon and also stayed overnight, simply because Tallinn has plenty sleeping options to choose from.
It was not our first time in Tallinn, so we didn't have the urge to do the sightseeing. Which was a good idea – the cobble stones of Tallinn are beautiful, but are not stroller friendly.
Instead, we concentrated on exploring the off centre part of the city – Kalamaja.
Kalamaja is a lovely green district which comprises mostly of the residential housing, with cute wooden structures. It easy to navigate with a stroller and for elder kids there are some nice playgrounds.
The creative heart of Tallinn – Telliskivi Creative City – is also located in Kalamaja district. Telliskivi Creative City is a former tobacco factory which has been shut down and transformed into a creative space, which hosts creative bureaus, cafes, restaurants, craft shops and galleries.
Every Saturday a popular and busy flea market takes place within the Telliskivi Creative City premises.
With many food and drink options to choose out of, Telliskivi Creative City makes it for a good stop. We had lunch at F-hoone bar and restaurant, which has seating areas inside and outside and enough space for children.
In case you are also hunting for some local souvenirs to take home, Tallinn is the best place to get them. In Telliskivi Creative City there are many local designers and artists selling their craft.

My favourite Estonian brand Nurme – organic cosmetics for the whole family – is also located at Telliskivi.
---
Road trip through Estonia with baby – Day 2
---
Lahemaa National Park
Lahemaa National Park is located only 40 minutes away from Tallinn (by car), but it felt like you we have been transported to a different perfect world filled with the smell of pine trees and the air so fresh that our lungs were dancing in approval.
If you wish to experience Estonia at a slow pace – Lahemaa National Park is the right place. The whole area is bursting with pine trees, bushes of blueberries, moss and wildlife. To see an elk or even a bear (mostly in winter) is a normal thing here.
It is a perfect area for a family summer vacation in Estonia – small villages with wooden houses standing among pine trees. The Gulf of Finland and the beaches are nearby and are easily reached.
We have passed by the villages of Käsmu, Vinnistu, Loksa, Vihula:
Loksa is the largest town in the area and is good for restocking of food and baby items.
Vinnistu is a lovely seaside village, with a great view over the Gulf of Finland. It also hosts a small Art Museum and an open air art installation next to the Art Hotel. The concrete suitcases piled together are a bitter reminder of people who had to flee Estonia during the World War II.
We had lunch at Vinnistu Rannaresto – a restaurant located inside the Art Hotel with tables right next to the water. Pasta with freshly picked chanterelles was delicious!
Our favourite village, however, was Võsu. This village was a perfect combination for a summer break vacation – we were there during the lunch time and we could see families having lunch outside among pine trees. It also has a lovely beach and a small supermarket.
We learnt that houses are booked out fast, just saying.
If you are in Võsu by lunch time, Mere38 Resto (Lahemaa RP, Mere 38, Võsu) is lovely village style restaurant with tasty homemade food.
---
Viru Bog – the main attraction of the Lahemaa National Park
The main attraction spot of Lahemaa National Park are it's swamps and bogs.
Viru Bog is really a must visit spot! It is a large area with swamps and trees and nothing but nature around you. The main road around the swamp is well equipped for walking with baby – it has a wooden flooring which is wide enough to fit a stroller. The whole trail is 3,5 km.
The further in you go, the more bogs and water surround you.
The stroller friendly wooden flooring ends in the middle of the bog at the observation deck – from there you can see the whole area from above. We loved it! We also thought that it was a baby friendly walk to take!
Check out these directions on how to find the start of the trail.
If you are traveling without kids or your kids are older, by all means continue walking further. The path gets narrow, but you will end up at bog lakes, where you can have a swim – an experience not to miss on any road trip through Estonia!
---
Our second night on the road trip through Estonia we have spent in Vihula Manor Country Club and Spa. It is a lovely manor locate in the middle of the countryside which a cute herbs garden and bunnies jumping around. We found it family friendly – Olivia baby was happy.
Right next door to the manor there is an old windmill.
---
Majakivi-Pikanõmme study trail
If you are traveling with elder kids, we can highly recommend you the Majakivi-Pikanõmme study trail. It is a great way to learn the Estonian nature at it's pure state. The trail is not stroller friendly, but it is covered in wooden flooring adults and elder children can easily walk on.
OUR TIP: We learnt this great tip from the locals and would like to pass it on to you. If you type in Google 'rmk matkarajad' it will show you all the trails in Estonia equipped for walking.
---
Road trip through Estonia with baby – Day 3
Our last stop of our road trip through Estonia with our baby Olivia was the town of Viljandi, which is located next to the Latvian border.
It took us 2 hours to get there from Vihula. The road goes through the middle of the country which is a great opportunity to see the rural Estonia life.
---
---
Viljandi is a charming Estonian town and is a great place for a road trip stop. We loved its wooden houses, cobble stoned town centre, friendly locals and the provincial vibes.
On the historical side, it has a medieval castle from the 13th century – Schloß Fellin and adorable wooden old city centre.
Viljandi get's busy in summer – a folk music festival takes place annually in Viljandi Castle and city center in July.
For food check out Tegelaste Tuba (Pikk 2b, Viljandi) – a place serving simply traditional food right next to the city centre. It's outside seating area is lovely and they have baby chairs.
From Viljandi we drove towards the Latvian border to continue our road trip.
Follow us on Instagram to see our current travel stories