INVISA Figueral Resort on Ibiza – Perfect Destination for Family Holidays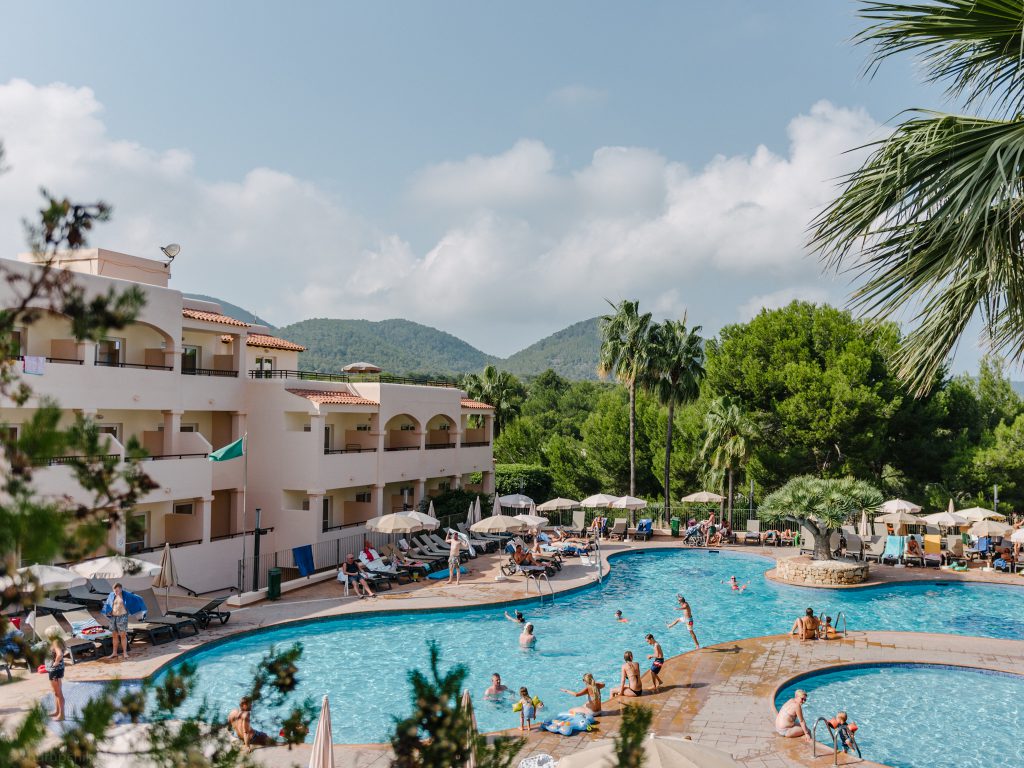 ---
INVISA Figueral Resort on Ibiza is surrounded by turquoise lagoon waters and pinery, making it a perfect family holiday destination. Keep reading to learn why you should have a closer look at it while planning your family holidays on Ibiza.
---
About INVISA Cala Blanca Resort
---
INVISA Figueral Resort or as the official name says, INVISA CALA BLANCA, is located in the small settlement of San Carlos at Es Figueral Beach. It is in close proximity to the city of Santa Eulalia des Riu – 10 km away. Ibiza city is about 30 min drive.
The airport of Ibiza is about 30 km away, about 40 minutes drive.
The resort gets its name from the gorgeous Cala Blanca lagoon, laying at its feet at the northern part of Santa Eulalia region.
With bed and breakfast, half board, full board and all-inclusive, Invisa Hotel Cala Blanca has 448 guest rooms tailored for travellers and family needs, no matter what age.
It was our home during our Ibiza holidays and we have enjoyed our stay to the most.
When travelling with children it is important to stay comfortable in a new environment. And that's exactly how we felt here – well taken care of.
So let us tell you more about our stay and why we think that INVISA Figueral Resort on Ibiza is great for families.
Curious to see more? We have saved our Stories from Santa Eulalia in our Instagram Highlights. Just click here.
---
Why Is INVISA Cala Blanca great for Families?
---
Invisa Hotel Cala Blanca set its goal to create a relaxed and comfortable atmosphere for their guests. So that everyone can enjoy their holidays without taking care of thousands of annoying little things which eat ones time and energy. And the whole hotel with its staff is taking a good care of fulfilling this goal 100%.
Together with its neighbour and partner INVISA HOTEL CALA VERDE, it provides a large green territory with enough space for everyone.
Cala Verde Hotel is located just a short walk up the hill and provides gorgeous views of the lagoon.
You might know us as independent travellers, so please don't judge us. But we have enjoyed our all inclusive stay to the tiniest bit. Sometimes it is great to be spoiled and leave the organisational worries to professionals.
---
INVISA Resort Facilities
---
The facilities at INVISA Cala Blanca are kids friendly. Starting from children's menu at the restaurant to baby cribs in the room. But let us give you some more detail.
The whole area of the resort is optimised for strollers and wheelchair access. That is to say, you can reach all the resort premises without taking your little one out of the stroller. We promise, we haven't done any heavy lifting during the week of our stay. Amenities access, beach access, pool access – it's all there. Elevators are there too.
High chairs are available en masse at all the food serving stations – at pool bars and main restaurants.
Baby beds and cribs are brought to your room upon request.
---
INVISA Resort Services
---
Apart from the standard services hotels and resorts offer these days, like pick up or wake up calls, the INVISA Cala Blanca Resort does have some extra features which will make your family holidays smooth.
If by any reasons you don't feel like taking your own stroller with you, you can easily rent one upon arrival.
We have learned about it too late, but would have loved to check this one out – the babysitting service!! The magic wand for every family.
The car rental service is also a great help. We have been waiting in lines at the airports at many popular destinations, but not this time on Ibiza. We organised a transfer to the resort and picked up our rental car at the convenient to us time the next day. Free parking area is located just on the back side of the resort.
Bicycle rental is available too. We haven't tried it though.
Laundry service. Yes, we know, that laundry is the last thing you want to do when on holidays. But we also know that traveling with small children, the clean clothes end VERY fast. At INVISA Cala Blanca Resort you can do your own laundry, which is helpful, especially if you don't want to pack to many things in your suitcase. The laundry service costs extra, so we recommend you pack a couple of wash powder tabs with you.
---
Food Options at INVISA Figueral Resort
---
Before we start telling you about all the food options available at the INVISA Cala Blanca Resort, rest assuared – you will not stay hungry!!
Together with INVISA Cala Verde you will find 5 bars and 4 restaurants.
The food options change every day, with a separate corner with kid's menu during the dinner time.
There was a corner with gluten and lactose free products, as well as enough vegetarian dishes to choose out of.
The Main restaurant is the largest one and serves food 3 times per day during breakfast, lunch and dinner times. Snack options are also available in the afternoon.
We liked 'La Marina' restaurant – it is smaller and more cozy. It is great during breakfast and it also serves late breakfast. You need to book a table in advance for any meal, since the places are limited.
If you are looking for a change – trying out the food from the neighbouring partner resort INVISA Cala Verde is a great option. Our favourite one was 'La Brasserie'.
Snacks and drinks are available next to every pool, with fruits, snacks and baby food on offer. So you don't have to worry about getting a snack for your little ones.
We thought it very thoughtful that in the Main Restaurant there was always a corner with baby food, making it super convenient for parents.
There is also a cute beach Chiringuito Las Dalias directly on the beach, but it works separately from the hotel.
---
INVISA Resort Activities
---
Well, well, well, this is where the fun part starts! We'll do our best to tell you all we learnt and experienced about the activity options at INVISA Cala Blanca, but there were so many, that we couldn't test them all!
Apart from 3 large swimming pool areas, adult only pool area, covered pool with warm water, and, of course, the beach, the opportunities for children and parents for having fun are endless:
Day activities at INVISA Cala Blanca Resort:
For the babies there is a special swimming pool as well as a Mini Club.
For elder kids there is a Maxi club – with the well protected area, a playground and a team of workers who take care of children and engage in all sorts of activities. Olivia was a bit sceptical about the Maxi Club in the beginning, but at the end she didn't want to leave. There are opening hours to consult.
For teenagers there is a Junior club with activities like supervised archery or table tennis.
There is also a playground next to the Main Restaurant, where Olivia would swing before breakfast.
The beach is another great option for having fun. The Es Figueral beach is wonderful and we loved playing in the sand and going for a swim there. You can rent toys and beach stuff at the hotel – there is a small booth which rents things out.
Read about our 6 favorite family friendly beaches in Santa Eulalia.
The highlight of the INVISA Figueral Resort on Ibiza is the very own Pirate Ship!!! It is a separate area, the Pirate Islands, next to the Mini and Maxi Club and it lives it's own life – with the bucket of water coming down every 5 minutes or so, water slides and happy screams! Needless to say, we visited it almost every day.
For families with elder kids there are walking tours to explore the surrounding area.
There is also a sightseeing train, which stops at the hotel (consult the schedule) and drives you around the area, stopping at some of the best beaches of the region.
Read this posts of ours to learn about Santa Eulalia des Riu on a Day Trip With Kids – 18 Things to See and Do
---
More Activities on Ibiza
---
Evening activities at INVISA Cala Blanca Resort:
If you didn't get enough action during the day, there is a also an evening program to keep you entertained:
The wonderful Entertainment Team always comes up with some evening fun program. Everyday there is something going on, so check the plan in advance. When we were there they have staged the Lion King Musical, which was kind of cool! We didn't watch it till the end, though – Olivia got scared of the hyenas.
There is also life music at the pool bar on certain days.
OUR TIP: Since INVISA Cala Blanca and Cala Verde are parter resorts, you can always check out what's going on in the neighbour hotel – the program is different from one another.
---
INVISA Figueral Resort for Adults
---
And last, but not least! INVISA Figueral Resort on Ibiza offers holiday options not only for families, but for adults as well. If you are not scared of bumping into a screaming toddler once in a while, then you might consider it as your home for the holidays on Ibiza.
Here are some of the activities adults might enjoy at INVISA Cala Blanca:
The adults only area at the Buddha Chill Out zone with a separate pool, bar and massage options. It is located separate from the other hotel amenities, so that the noise won't reach it.
Activities like yoga and bicycle rental are there to enjoy.
At the beach there is a SUP and Kayak station. The station doesn't belong to the hotel directly, but offer discounts for the resort guests.
You can also organise a special ceremony or an event at the resort premises.
We hope that you found this post helpful and we wish you wonderful holidays on Ibiza. Even though we have been invited to stay at INVISA Cala Blanca Resort at all the expenses covered, the opinions and thoughts in this post are our own and honest.
We can recommend INVISA Figueral Resort as a perfect family holiday destination on Ibiza!